iPod speaker rig returns to valve amplification era
Higher fidelity?
Some in the audiophile world mourn the passing of the thermionic valve, out-evolved by the transistor and integrated circuit. Valves, they maintain, make for a warmer sound and better audio fidelity. But now the vacuum valve is back, revived for the iPod era in the i-Steroid amp and 2.1 speaker combo.
UK distributor ODS has brought Sonic Gear's i-Steroid to our shores, offering two versions through its retail partners: one black, other white, though the black model's red trim makes it more suitable, perhaps, for the U2 iPod than the regular midnight-hued model.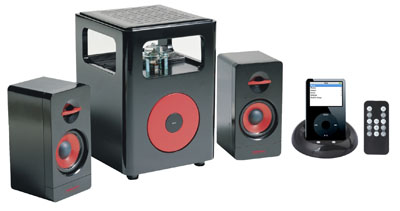 There are three types of i-Steroid, offering either 28W RMS output or 50W. The 28W model comes in two forms one with and the other without an FM tuner. All three ship with a universal iPod dock and a pair of remote controls: one for the iPod, the other for the i-Steroid. Dock and amp connect via 3.5mm earphone jacks and sockets, so i-Steroid can be used with other sounds sources too.
According to ODS, the valves smoothen the sharp edges of digital sound "producing a 'natural' signal which is more pleasing to the ear". They're less noisy than transistor-based amps but no less long-lasting, the company claimed.
And the claimed audio improvements even come despite lossless compression music formats' inherently sub-CD sound quality.</p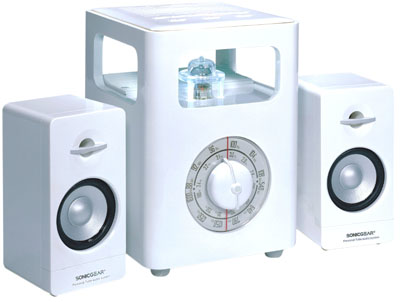 ODS said the i-Steroid line is currently available through a number of UK resellers, including Play.com, Easy iShop and MobileFun. Available now, prices range from around £130 to £200. ®