Japan gets bath-time friendly iPod speaker set
Waterproof
Want to take your iPod Nano to the beach but are worried about sun, sand and sea getting into the works? Then Japanese accessory maker Suntac may have the answer: the world's first portable waterproof case and powered speaker combo.
It's perfect, the company claims, for the beach, poolside usage, bath time and even when you're out washing the car.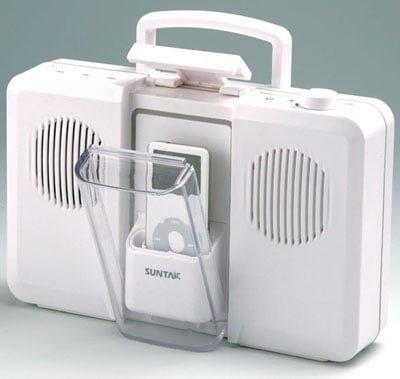 The player sits sheltered under a transparent plastic shield and connects to the charmingly named AQIP-262 through it's dock connector - which, incidentally, is also iPod Mini friendly, if you own one of the older, hard disk-based machines.
The speakers are a pair of 0.5W jobs fed by the Nano or Mini and powered by the iPod, an AC adaptor, or the AQIP-262's own set of four batteries, from which you'll get up to 25 hours' playback time if you use alkaline cells, the company claims.
The AQIP-262 weighs 730g - minus batteries and Nano - and measures 24 x 15.3 x 7.5cm. Suntac's website is selling it now for ¥4,800 ($42/£23/€33), though shipping is likely to set you back even more than that. ®
Related reviews
Griffin TuneFlex in-car iPod Nano holder
Griffin TuneBuds iPod lanyard-earphone combo