Microsoft gives monopoly robotic legs
A Studio for the future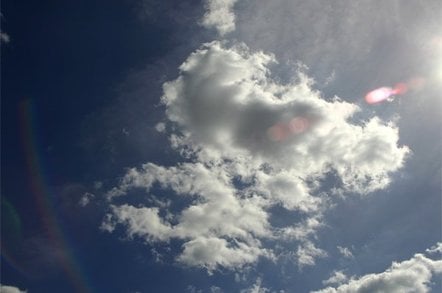 RoboBiz Microsoft has answered the robotics industry's call for a monopoly standard with the release of a new software development package for powering devices of all sizes. The beasty hopes the software will make it easier for students and hobbyists to enter the robotics field and provide a common platform for companies to use.
Tandy Trower, a general manager at Microsoft, unveiled the Microsoft Robotics Studio today here at the Robo Business conference. Broadly speaking, the developer package provides a way to model robots and then write commands to make the devices function. While only in "community technology preview" today, the developer package will go "Gold" in October, The Register has learned.
The robotics industry is currently struggling with a severe lack of standards for software and hardware components. Companies produce mounds and mounds of custom code to run their specific platforms. This can make life difficult on third-party types who want to build add-ons for a wide variety products. The software situation also proves intimidating to students who want to dabble in the robotics field.
It may seem odd for Microsoft to step in with a plan for solving these problems, but the robotics directive came straight from the top. Bill Gates returned from one of his Think Weeks and ordered Trower to pursue the market and "see what Microsoft could do."
Trower wrapped the arrival of Robotics Studio with a lot of good natured fluff about Microsoft igniting a thrilling industry and giving poor students a helping hand. Lurking behind all of this is the obvious push to make Windows and Microsoft's developer tools a standard piece of the robotics industry where custom applications, Java and Linux already do quite well.
"What we are seeing right now is perhaps the second age of the PC, when the PC gets up off our desktops (and walks around)," Trower said, rather ominously.
Microsoft representatives hesitated to describe Robotics Studio as an operating system, although most reports have called the package an OS. In reality, it's an SDK.
Developers can start out and design a 3-D model of their robotic device courtesy of a Microsoft-provided license of the PhysX engine from Ageia. Then, they can tap into a visual programming tool to create and debug applications meant to run the machine.
The application can be fairly complex, according to Trower. Microsoft has shipped a "lightweight services-oriented runtime" with Robotics Studio. This lets a programmer create numerous, independent services for a device such as moving an arm, having sensors announce changes in state or firing up a motor. The failure of one service will not affect the other services, demonstrating that Microsoft might be better at building robotics software than it is as developing operating systems.
Always aware of its surroundings, Microsoft did make an openness pitch.
"The Microsoft Robotics Studio programming model can be applied for a variety of robot hardware platforms, enabling users to transfer their learning skills across platforms," the company said. "Third parties can also extend the functionality of the platform by providing additional libraries and services. Both remote (PC-based) and autonomous (robot-based) execution scenarios can be developed using a selection of programming languages, including those in Microsoft Visual Studio and Microsoft Visual Studio Express languages (Visual C# and Visual Basic .NET), Jscript and Microsoft Iron Python 1.0 Beta 1, and third-party languages that conform to its services-based architecture."
The conference attendees were quick to jump on the obvious gags following Trower's presentation.
"Will this make my robots blue screen," asked one person. Another pressed about the dependency on Windows.
"Windows is the development platform, but there is a sense of openness," Trower countered, noting that someone with a Mac could fire up a web browser an interact with a robot from there.
That, however, seems a rather broad way to describe "openness."
Microsoft has already teamed with a number of companies and universities with the developer package. Kuka Robot Group and White Box Robotics had systems programmed with the software on display, and we'll bring you photos of the gear later this week.
It took three years to develop this software, according to one of Microsoft's booth babes. A small team of "renegade" workers currently oversees the project. Microsoft, however, is taking its robotics work quite seriously and plans to offer full services and support for the package.
Officials here at the Robo Business conference were thrilled to have Microsoft show up at the last minute to reveal its robotics wonders. To its credit, Microsoft has gone after the right people by targeting developers and students. And, without question, the robotics field needs all the help it can get. A software standard would be a good thing for the industry.
Luckily for Microsoft, robotics seems to be a market that moves at Redmond's speed. Microsoft could probably wait five years to deliver an update to Robotics Studio without anyone in the field minding and without us being any closer to having wired chauffeurs.
There's more information on the software available here. ®
Sponsored: Webcast: Build the next generation of your business in the public cloud