PowerColor X1900 GT ATI-based graphics card
Plenty of performance for under £200
Review Competition is meant to be good for the consumer and one market where this seems to be more true than anywhere else is if course computer components. There is a never-ending price war between the various manufacturers, but this has never been as apparent as it currently is when it comes to graphics cards. As long as ATI and Nvidia are trying to outdo each other in terms of performance and price, the buyer will always win...
ATI's latest GPU, the Radeon X1900 GT, is a cut-down version of the X1900 XT, but it's still one seriously fast graphics card. PowerColor is one of many manufacturers to offer a card based on the X1900 GT and was the first manufacturer to get one over to Reg Hardware. It's a straightforward re-badge of the ATI reference design.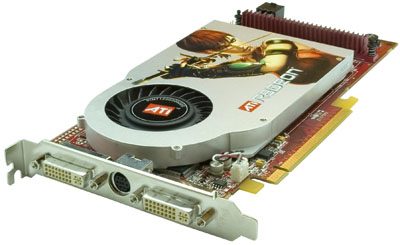 The PowerColor X1900 GT only has 256MB of memory, although this is likely to be more than enough for just about anyone except those with super-high resolution screens. The GDDR 3 memory is clocked at 600MHz (1.2GHz effective), some 125MHz slower than the X1900 XT. The core speed of 575MHz means that the X1900 GT is 50MHz slower than the X1900 XT.
These aren't the only changes. The X1900 GT also has fewer pixel shaders than an X1900 XT and this will have more of an impact on graphics intensive games than the clock speed. ATI has chopped off 12 pixel shaders from the XT, leaving 36 pixel shaders and 12 pixel output engines. However, ATI didn't mess about with the vertex shaders, so there's still a full set of eight vertex processing engines.
ATI briefed me a couple of weeks ago on DirectX 10, and it seems we soon won't have to worry about how many of what type of shaders our graphics cards will have. The big thing is unified shaders, which should result in much faster and more efficient use of the vertex and pixel shaders in your graphics card. That said, you'll still have to count the numbers of unified shaders, as more is still going to be better, even with a unified design.