Hibernating rover spots new meteorites on Mars
Opportunity: 1, Spirit: 2
The Mars Rover, Spirit, has found what seems to be a pair of iron meteorites in the Gusev crater, where it is currently waiting out the Martian Winter.
These are the second and third space rocks to be found on the red planet. The first was discovered by Spirit's colleague, Opportunity, in January last year.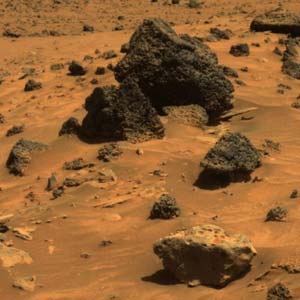 The researchers' suspicions were raised when they noticed the pair of rocks looked remarkably similar to the one found by Opportunity over a year ago, dubbed Heat Shield Rock. The dark rocks in the middle of the picture are native to Mars, but the lighter-coloured, smoother rock in the foreground is thought to be an alien interloper.
These new rocks have been informally named Allan Hills and Zhong Shan, after locations in Antarctica. Spirit has checked them out with its miniature thermal emission spectrometer, and found that they are both reflective, like Heat SHeild Rock.
One of the suspects, Allan Hills, is pictured here, but Zhong Shan is just out of the shot.
Spirit is sitting on the slope of the Gusev crater, conserving power and waiting for spring. The amount of light reaching the surface in winter is just enough to keep the rover ticking over. It won't freeze, but its batteries won't have the power to do much more until spring arrives. ®