Gates to spend more time with his vaccines
Chairman leaving full-time Microsoft role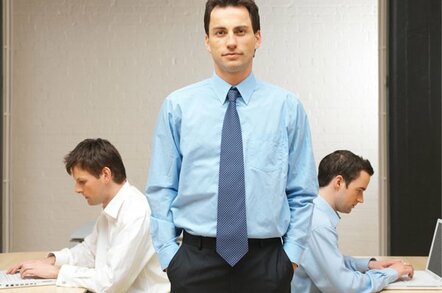 Chairman Bill dished out a stunner on Thursday, saying he will give up day-to-day responsibilities at Microsoft in July of 2008. Over the next two years, Gates will hand over his full-time duties to a couple of lieutenants and prepare for life as a professional humanitarian.
Microsoft revealed the two-year transition process during a press conference today. Gates currently serves as Chairman and Chief Software Architect of the company he co-founded. While remaining Chairman, the rich one, however, now plans to play a more active role at the Bill & Melinda Gates Foundation.
Ray Ozzie - one of the masterminds behind Microsoft's infamous "More Meetings Papers" - has already taken over the Chief Software Architect title. Chief Technical Officer Craig Mundie has become the chief research and strategy officer and will hold hands with Gates during the transition.
"Our business and technical leadership has never been stronger, and Microsoft is well-positioned for success in the years ahead. I feel very fortunate to have such great technical leaders like Ray and Craig at the company,"Gates said. "I remain fully committed and full time at Microsoft through June 2008 and will be working side by side with Ray and Craig to ensure that a smooth transition occurs."
During Gates' tenure as Chief Software Architect, Microsoft has failed to push out a successor to Windows XP and fallen years behind Apple from an operating system technology standpoint. Gates' "think weeks" never seemed long enough for him to churn out any ground-breaking ideas for the company. It's not immediately clear if Mundie will now be granted the privilege of reading in a cabin for a week while wearing fun socks and drinking soda.
Will Gates' departure lift the spirits of frustrated Windows users around the globe? Sure, you can still beat up on CEO Steve Ballmer, but Gates was the ultimate prize. World+Dog will surely have less invective for Gates once he starts helping the poor and infected full-time.
"I will shift to work full-time at the foundation and part-time at Microsoft as Chairman and as a senior technical advisor," Gates said, during the press conference. "With the success of Microsoft, I have been given the gift of great wealth. I believe that with that great wealth comes great responsibility."
Gates and Ballmer then engaged in a mushy "we love each other" session.
Gates said, "I will miss working with Steve every day. . . I could not ask for a better business partner or a better friend."
Ballmer returned the favor noting that it "has been my privilege to work shoulder-to-shoulder with a true visionary. . . Bill Gates more than anyone else unleashed the technology revolution."
Er, we'll let that last bit go for the moment other than adding that Gates nodded in agreement with Ballmer. Ever humble.
"I know the contribution you will make to the world of health and education will be as great as the contribution you have made and continue to make to the world of software," Ballmer added.
Hopefully, for the sake of Africa, that won't come true.
Gates noted that he expects to remain Chairman for the rest of his life and to remain the largest shareholder in Microsoft.
The role shift at Microsoft marks the second major change at a technology powerhouse this year, following Scott McNealy's decision to step down as CEO of Sun Microsystems. Both Gates and McNealy's personalities carried over to the companies they founded in major ways. ®