Small but perfectly formed Meizu Mini Player
Less tasty than an Apple
Smaller than a business card, but rather thicker, the Meizu Mini Player measures 79 x 48.2 x 10mm and weighs 55g. Desperate to maintain the metaphor we've confirmed this is the equivalent of 45 business cards.
The dominant feature of the Mini Player is the 2.4inch/61mm screen which has a QVGA resolution of 320x240 pixels.
The Apple iPod has a 2.5inch screen with the same resolution. The obvious difference between the Mini Player and iPod (with which every media player must be compared) is that the iPod uses the wonderful scroll wheel for navigation and sues the pants off anyone who considers doing the same.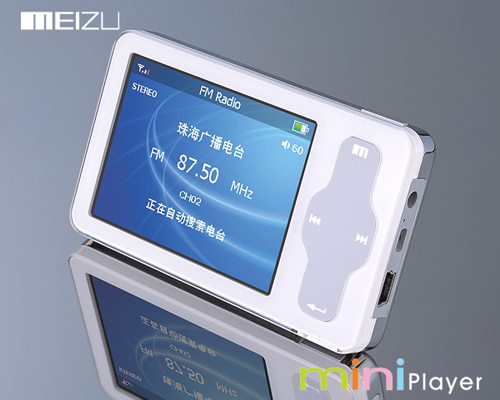 The result is that the Mini Player uses a scroll bar which looks more akin to the interface on the Creative Zen Vision. Storage is 1GB, 2GB or 4GB of Flash memory and the Mini Player supports MP3, WMA, WAV and OGG audio formats as well as AVI movies playback. The player supports BMP, JPG and GIF picture formats. If you limit yourself to music you'll get 20 hours of life from the Li-Ion battery. Other details are a USB 2.0 interface and an FM radio. OS support is surprisingly generous and includes Windows 98SE/Me/2000/XP, Mac and Linux OS.®