PC-less VoIP Wi-Fi phone
The easiest way to VoIP yet?
Computex 2006 A little-known company called BCM used Computex to show a multi-format VoIP Wi-Fi phone based on the Windows CE kernel. The WLAN800I is compatible with Skype, SIP services, MSN Talk and MSN Messenger.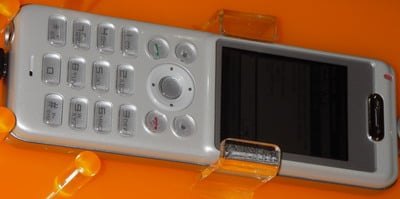 There's no need for a PC for it to function, all you need is an 802.11b/g wireless access point connected to the internet. Claimed battery life is 60 hours in standby and up to three hours' talk time. It's charged via a mini-USB connector and has a stereo headphone jack as it can also be used for streaming music since it features a built in media player. The screen measures 2.2in and has a resolution of 240 x 320 pixels and can display 65,000 colours. There was no information on what CPU the WLAN800 is based on, but it has 32MB of flash memory and 64MB of SDRAM.
Three-way calling is supported, as well as the ability to connect via MSN Messenger to someone that has a web camera - although they can't of course see you. You can store 10 wireless profiles for quick access when you swap between wireless access points and it also supports major hotspot companies such as T-Mobile. There is support for WEP and WPA encryption as well as DHCP and static IP addresses.
Other features includes vibration mode, true tones ring tones, a 250 contacts phone book, call history for your last 20 dialled numbers and an embedded web browser.
The WLAN800 should be available from BCM in the middle of July, but as yet there's no UK distributor. ®