DVB-H on display
Telly on your phone
Computex 2006 Philips ran live DVB-H demos during Computex, showing just how close the technology is to entering at least a test phase with operators.
The picture quality on the devices was impressive, but far more interesting was the fact that Philips has an SDIO solution for devices without a built-in tuner.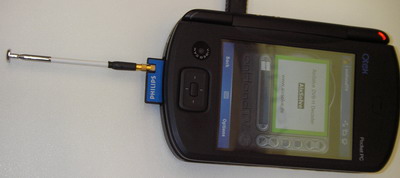 The SDIO cards weren't much larger than a normal SD memory card, and simply need a smallish antenna attached to the top. The European version of DVB-H has a return signal - it is unlikely that DVB-H will be a free to air service, at least in Europe. As always, the US is using a different type of DVB-H that operates at a different frequency.
All the demos were run in Windows Mobile devices, so it is unclear if the SDIO cards will work on other mobile platforms or not. However, you might not need a mobile phone to make it work, as the SDIO cards should also work with many PDAs - as long as the subscription solution is flexible enough from the content providers.
Philips also showed some impressive portable video players with very high quality screens. Philips won't be selling the devices on display, but at least one of them was branded CyberHome. All the video players offered component video output, but only up-scaled content would be playable. One of the devices also supported full Macromedia Flash 7 functionality.
Finally, there was a range of new TV tuners from Philips with PCI Express interface. One model allowed for up to six tuners on a single card and a mix of DVB-T, DVB-S, and analogue options.
Linux savvy readers will be pleased to know that Philips listed Linux driver support for these cards. ®