Intel does HD with G965 chipset
Integrated graphics with HDMI support
Computex 2006 Although Intel officially announced the P965 chipset yesterday, today's press briefing contained some further information about the other chipsets in the 965 family, aka 'Broadwater'. Intel talked about the G965 for Viiv and Q965 for vPro. As we reported earlier, the integrated graphics core will indeed be known as GMA X3000 for the G965, but on the Q965 it will be the GMA 3000.
There was no talk about 3D performance at all during the presentation, as Intel concentrated on video playback performance. The marketing bumf mentions clock speeds of up to 667MHz for the GMA X3000, although there's no mention of the speeds of the 3000. The GMA X3000 supports DirectX 9.0c and Shader Model 3.0 as well as OpenGL 1.5, but most importantly it's up to Windows Vista Premium standard.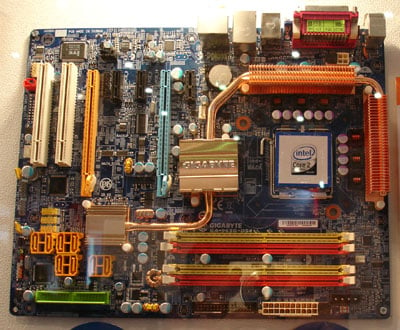 Gigabyte's G965-based board, the GA-965G-DS3
Intel Clear Video Technology is the marketing name for Intel's PC-to-TV connection technology and there will also be support for HDMI built into the G965 chipset, although it's unlikely to be standard on all motherboards. The G965 supports 720p, 1080i and 1080p HD resolutions and it'll do de-interlacing. Intel even claims to be able to play one HD and one SD video stream at the same time using the GMA X3000.
The GMA 3000 is the business solution and can, with the help of what's known as an ADD2 card, output to two displays simultaneously. The ADD2 cards slots into the x16 PCI Express slot and tend to have a DVI connector to which the second display is connected.
Somehow Intel seemed to have forgotten the Q963 chipset, which was mentioned in the marketing material but not in the presentation itself. The part is a cut-down version of the Q965 and doesn't support an external graphics card interface or ADD2 cards.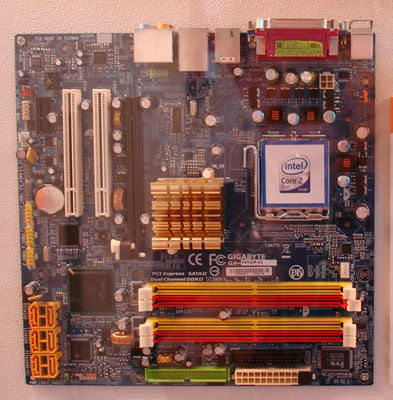 Gigabyte's Q965-based board, the GA-965QM-S2
All three chipsets support a 1066MHz frontside bus speed, use new ICH8 South Bridge and provide HD audio. No firm launch date for either model was announced. ®
Full Computex coverage at Reg Hardware