AMD runs out of magic rabbits and embraces 'Raiden time'
Beware the slideware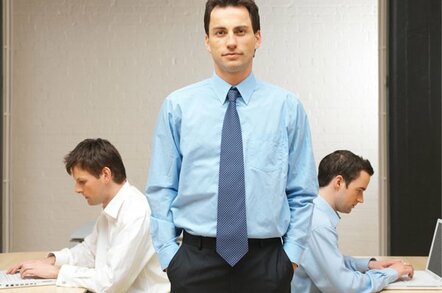 The glory days when AMD could make bold proclamations about 64-bit and dual-core advances over Intel have passed. Intel's imminent catch-up effort with the "Core" line of chips has made it impossible for AMD to trounce its rival on a grand scale. Instead, we're left with both AMD and Intel hitting the slideware harder than ever as they try to carve out advantages in various niches, stretching across server, desktop and mobile product lines.
This trend became painfully evident yesterday during AMD's "technology day" event held here. Sure, AMD management still displays the bravado associated with any flavor of the month in the technology game. Its executives, however, have muted the hubris a tad and now discuss things like "platforms" and "partners" rather than how they will obliterate Intel on every performance benchmark known to man.
Take, for example, AMD's rollout Thursday of a "code-name" three pack. It was SVP Marty Seyer that explored Torrenza, Trinity and Raiden.
We're not sure if AMD is pushing a religious vibe here or more of a Matrix thing, but we were suitably in awe.
As it turns out, Torrenza is the code-name AMD uses not really for an actual product but more for a "partner movement." AMD has pledged to open up its Direct Connect and Hyptertransport technology more than ever to let partners create products that can plug right into motherboards.
Of course, this has already been happening with companies such as Pathscale giving Opteron boxes a networking edge and DRC producing an FPGA dynamo. Over time, AMD expects even more co-processors to arrive that can help out with things like security loads, XML, Java and media software.
AMD even pledged to build some of these tools into silicon where appropriate and to let some of the chips plug right into Opteron sockets. As mentioned, companies like DRC plug into Opteron sockets today, so Torrenza is really just a descriptor for a current trend.
Trinity seems the most concrete concept of the bunch, as it actually refers back to real things. This is the term AMD uses to describe its virtualization aid (aka Pacifica), the "Presidio" security code and a new Open Management Partition (OMP). This last package is meant to make it easier for partners to develop software that can manage desktop systems well.
The really mind-blowing member of the three-pack is Raiden. Seyer vehemently denied our suggestion that Raiden is nothing more than a marketing concept. Instead, he said it's a platform for "delivering client cycles."
AMD doesn't want to be associated with the historical disaster that is thin client computing, so it's using "client cycles" as a workaround. This term describes a "new" computing model that stretches from multi-user blade PCs to actual thin clients or at least stateless devices.