Employee discontent grows at 4uBusiness
Firm takes 'urgent action' to halt losses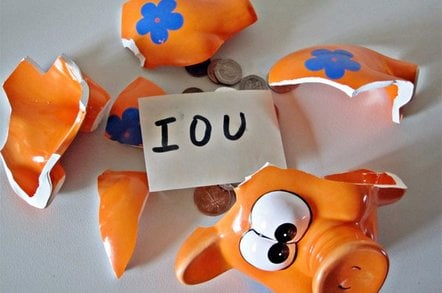 Staff at troubled 4uBusiness - the SME-focused sibling of phone retailer Phones4u - fear the firm is being wound down, with devastating consequences for employees.
Earlier this week, The Register reported that staff at 4uBusiness are "leaving in droves" and morale among workers has hit rock bottom.
Now insiders at 4uBusiness, which is part of the giant telecoms empire of entrepreneur John Caudwell, have told The Register that half the sales force has left the firm over the last week as sales targets have been raised and benefits cut.
On Tuesday morning the telesales department was told their jobs had been moved from Warrington to the firm's head office in Stoke-on-Trent. Anyone who doesn't want to make the daily commute has been offered a month's wages and the chance to look for another job, sources say.
Insiders have also explained how satellite offices have also closed while other branches are due to shut "any day now".
News of the scale of changes comes in a week when The Caudwell Group confirmed that 4uBusiness - which employs some 400 people - was merging with Phones4u. Staff blame the impending sale of the Caudwell Group, which was put up for sale by John Caudwell last year, for the job losses, claiming that people are "unhappy" with the way they've been treated.
One worker, who asked not to be identified, told us: "It seems like the sale that's going through doesn't include our side [4uBusiness] of the company, so it's being wound down. Basically, the largest B2B mobile company in the UK is about to go out of business and no one seems to notice or care what's happening to the sales force."
In a statement, the Caudwell Group confirmed that the merger of 4uBusiness into Phones4u was still going ahead, but insisted that 4uBusiness would be part of Phones4u, the brand would remain and it would continue to sell mobile solutions to firms.
But the Caudwell Group explained that 4uBusiness had been losing money and it needed a shake-up to turn it around.
In a statement, the firm told us: "Over the last 12 months 4uBusiness has consistently under performed, predominantly due to lack of management disciplines. At the same time, the small business market has become increasingly competitive. The combination of the two factors has resulted in increasing losses in 4uBusiness.
"These losses are now so significant that urgent action needs to be taken to restore 4uBusiness back to profitability. As a result, certain departments of 4uBusiness will be integrated into Phones4u to gain economies of scale.
"It is necessary to take action to resolve the fundamental business failures that should have been addressed historically. The objective is to make certain that good quality people remain within the business and enjoy the same career prospects, as experienced in high performing businesses in the rest of the Caudwell Group," it said. ®