Nvidia nForce 500 Socket AM2 chipset series
A new AMD Socket, a new Nvidia chipset...
Preview Earlier today, AMD launched a range of new processors based on its Socket AM2 processor interconnect. Nvidia has launched a range of new chipsets to go with AMD's Socket AM2 CPUs and it's an impressive line-up. So far there has been no news about any new chipsets from ATI, although the RD580 chipset is already prepared for the AM2 platform...
Nvidia announced four new chipsets: the nForce 590 SLI, the 570 SLI, the 570 and the 550. This is a similar line-up to the nForce4 series. The 590 SLI is the only part that offers two full x16 slots and it's a two-chip solution, the second chip adding the extra 16 lanes for one of the two graphics cards, as with the nForce4 SLI x16.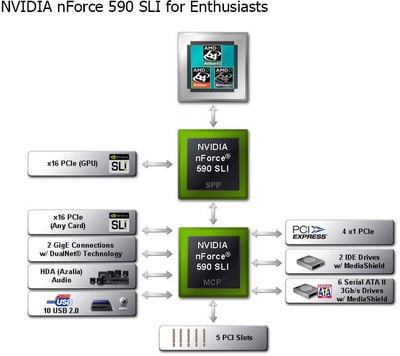 But there has been quite a few tweaks made, to bring Nvidia's latest range of chipsets right up to scratch. Common features includes, at long last, HD audio support, a ten-port USB capability, five PCI slots, four x1 PCI Express lanes, Gigabit Ethernet, SATA RAID - the nForce 550 loses out as it doesn't support RAID 5 and can handle only four SATA drives instead of six - and finally one IDE connector for up to two drives.
All of nForce 500s except the 550 provide two Gigabit Ethernet ports and support what Nvidia calls "teaming". This allows you to bond the two together in hardware. There are two options: full speed or failover. With full-speed teaming you get up to 2Gbps as long as your network can support it, although this is over two cables. Failover is common on servers: you have both Ethernet adaptors connected and one will take over if the other fails. It's another box Nvidia can tick, but it's not really that useful on a desktop computer.
More important is what Nvidia calls FirstPacket, a quality of service (QoS) technology. The Ethernet controller can prioritise, say, VoIP calls or games over downloads, for example. This means that the quality of a Skype call won't deteriorate or that the ping in your game won't drop as much as it might do otherwise. Finally, there's built in hardware TCP/IP acceleration which offloads the CPU from some basic but processor intensive packet handling tasks.