LG quietly launches 8GB music player
No clickwheel, just a touch-sensitive OLED
LG UK has launched an 8GB HDD-based alternative to Apple's iPod with the catchy name 'MFJM53'. But there's nothing pedestrian about the player's design, with its clean lines and 1.77in, 262,144-colour, touch-sensitive OLED screen.
The MFJM53 is primarily a Windows Media device, supporting tracks with and without DRM. But it's also at home with MP3, WAV and that favourite of the Linux crowd, Ogg, though according to LG, the player will only run with a Windows XP/2000 PC.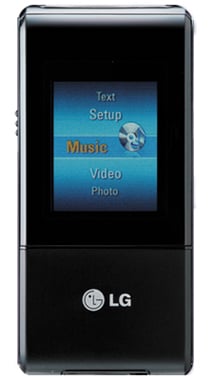 The player has a microphone on board, a line-in port for recording, and an FM radio. It'll handle MPEG 4 video encoded in AVI files, and happily display JPEG pictures and text files. LG claims a battery life of up to 30 hours' music playback, falling to four hours if you're watching videos.
The most interesting feature, however, is the "music therapy" LG claims the device offers. Alas, the manufacturer doesn't elaborate.
The unit ships with the inevitable choice of black and white colour cases. It weighs 88g and measures 10.1 x 4.8 x 1.4cm. There's no word yet on availability or pricing. ®