Romeo proposes on Apple's NY store webcam
Bless
Last week saw the opening of Apple's new NY Fifth Avenue store - an event marked by throngs of Machead faithful descending on the glass cube shrine of the electronic cult of Jobs.
And all very jolly it was too, according to the official pics of the event, with the great unwashed rubbing shoulders with the great and the good in unbridled scenes of joy and celebration.
Naturally, the morning after the night before was, as with all good parties, a rather less energetic affair - apart, that is, from one lovelorn chap who decided to avail himself of one of Apple's live webcams: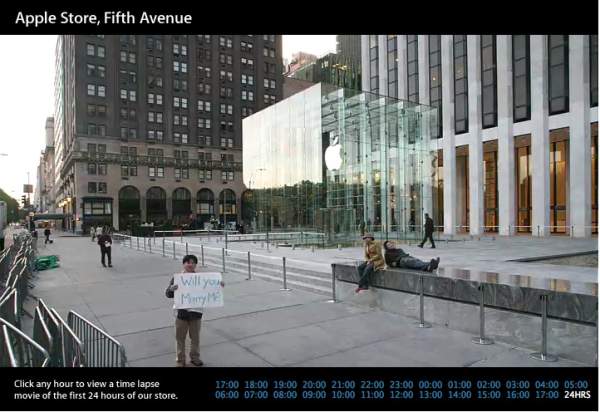 Bless. Our correspondent Bradley Wright - who kindly forwarded the above image - was not able to supply any further details, so we're uncertain as to the outcome of this particular proposal.
We do hope, though, that our Fifth Avenue Romeo was successful in securing his sweetheart's hand in marriage - although less charitable Reg hacks have suggested that he doesn't in fact have a fiancée at all, and is in reality a US-passport-hungry Chinese web dissident looking for fast-track up-the-aisle asylum action before Yahoo! and Google catch up with him. ®