Sun's storage boss offloaded in reorg
Server shuffle too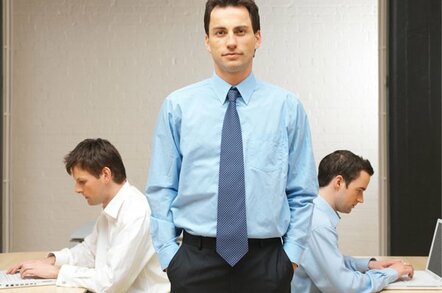 In its first major shift since Jonathan Schwartz took over as CEO, Sun Microsystems has reworked its hardware organization in an obvious bid to revitalize a flagging storage business.
John Fowler, Sun's previous head of x86 servers, will now head up the entire server business, including SPARC systems. Previous SPARC chief David Yen will move over to handle storage systems, and previous storage chief Mark Canepa has "decided" to leave Sun.
Under Canepa's leadership, Sun's storage business did nothing but underperform. Sun's storage sales have fallen just about every year, despite constant efforts to freshen up the business with improved software and hardware and via acquisitions. Yen, of course, will have the major task of making sure the StorageTek buy progresses as hoped.
Yen, however, doesn't have a sparkling track record either. The SPARC processor group has been plagued by product delays, cancellations and overall poor performance from the core UltraSPARC product. But, in our experience, Sun executives view Yen as a real guru of sorts, so he must work some serious magic behind closed doors.
Fowler, by contrast, has pushed Sun's x86 server business with a firm hand, showing 100 per cent year-over-year revenue growth. By this time next year, Sun could be approaching a $1bn x86 server business.
"John, Andy Bechtolsheim and our network systems team have done a spectacular job growing our x64 industry standard server business," Schwarz said. "Similarly, David's accomplishments have been outstanding, leading the revitalization of our SPARC server line, and the introduction of the world's highest throughput systems. We are thrilled with the rapid adoption of our Coolthreads T1 and UltraSPARC IV+ SPARC-based servers – which have received 16 world-record benchmarks to date - driven by David and his team. Both John and David have proven to be 'A' players at Sun and are ready for new and exciting challenges."
There's no question that Yen is a bright guy, but his 'A' grade doesn't seem to include the cancellation of the UltraSPARC V chip, along with recent cancellations such as the "Jupiter" co-processor meant for Rock boxes. In addition, Yen's team took a long time getting the UltraSPARC T1 out the door. Leading Sun's struggling storage group will be a huge challenge for the exec.
Similarly, Fowler will have to face a new set of tough decisions. His previous roles have been all about pushing into new areas and driving growth. With UltraSPARC, Fowler will need to find the right balance between R&D investment, partnership and competition with his own, rival x86 line.
We'd still love to see Sun hire a true outsider to come in for the now vacant COO post. The company could use some fresh blood and a real operations hard ass. Neither Schwartz nor McNealy are fond of that suggestion, but there it is. ®
Sponsored: Becoming a Pragmatic Security Leader