MS urges Brits to stone software pirates
Death to illegal software suppliers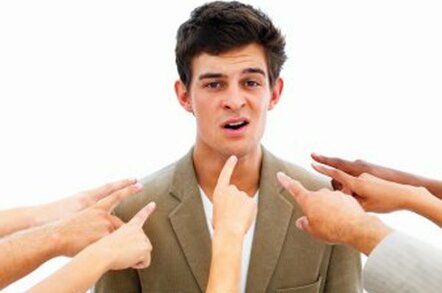 We all know that software pirates and those who distribute illicit copies of top-notch applications are threatening to undermine the very foundations on which western democracy stands.
Sadly, in the UK at least, if caught they stand to get little more than a fine and a slap on the wrist - a far cry from the days when you could be deported to the Antipodes for even thinking about bootlegging Microsoft Office XP Premium Deluxe CEO Platinum Edition™, or birched senseless for an illegal Powerpoint presentation.
Thank heavens then for MS UK, which has launched a campaign apparently designed to take software ne'er-do-wells permanently out of the loop. Reader Brad Freeman (who's a student at Bournemouth Uni, by his own admission, but we'll let that pass) explains:
A few days ago I got the nice Royal Mail notice that something couldn't be delivered as it was to large to fit into my mailbox, so today I made the early morning trip to the depot to find out what it was.

It looks it a white CD sized box with "Let's beat the cheats" on it and think oh not more software from Microsoft, and when I opened the lid it says "Together we'll track down every illegal software supplier we can in Poole" (Poole is my local area). And it goes on to generally blab about the evils of piracy and how it hurts everybody in the chain.

Underneath this is a rock, an actual genuine 100% solid rock, with a notice underneath saying "Let's leave them no place to hide". See attached picture.

What kind of crazy marketing is this?
Crazy? It's pure genius. Clearly the plan is that you and other honest citizens identify your local illegal software supplier (pretty easy - he'll have a black cat and the power to raise storms and curdle milk) and then you turn up at his shop and stone him to death. Job done, democracy saved.
On the other hand, this may be a Cosa Nostra-style message that MS UK has already iced all illegal software suppliers in the Poole area - either by stoning or by throwing them into in a flooded gravel pit - and then stoning them.
Either way, illegal software suppliers in the Poole area are duly warned to gather up their satanic familiars and their jewel-cased illegal wares and get their sorry arses out of town. ®
Bootnote 1
For the record, the letter accompanying the rock states:
Dear Mr Freeman.

We appreciate how difficult it can be to build a successful business in the technology sector. Especially when you're faced with competitors who don't play by the rules.

Illegal software suppliers are taking everyone for a ride. They take business and revenue opportunties away from you and provide customers with sub standard software service and support.

We want to put a stop to it. And we're coming to your area soon to find all of the illegal software we can.

As you can see overleaf, we have a consolidated campaign to track down the cheats, including press ads, personal visits and the Piracy Website for you to report anyone you suspect of supplying illegal software.

Between us, we can try to ensure that there's nowhere for the illegal software suppliers to hide.

Yours sincerely,

[Signed]

Michala Alexander UK head of Anti-piracy
Bootnote 2
Yes, we know the campaign is actually based on a "we'll leave no stone unturned" idea. A free bootlegged copy of MS Office to the first muppet who reckons we don't know this, and only reads half of the story before firing off some irate email about what a bunch of idiots we are.