Could Drew Barrymore's memory loss in 50 First Dates really happen?
Boy meets girl, girl loses memory, boy gets girl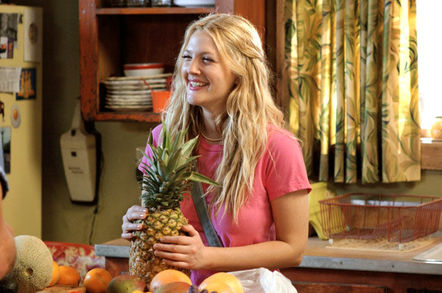 (Asked by Nikki Long of Waltham, Massachusetts)
In the romantic comedy film 50 First Dates (2004) starring Drew Barrymore and Adam Sandler, Barrymore's character suffers short-term memory loss as a result of a head injury in a traffic accident. Each morning she wakes up without any memories whatsoever of anything that happened after her accident. Sandler's character falls in love with Barrymore. very day he must persuade her to fall in love with him.
In the film, Barrymore is told by her neurologist, played by Dan Aykroyd, she suffers from "Goldfield's Syndrome". The problem is that there is no "Goldfield's Syndrome". Hollywood invented the name although this form of short-term memory loss certainly exists. According to Dr. Catherine Myers of the Memory Disorders Project at Rutgers University in New Jersey, the film conflates two real memory loss syndromes.
The first is Organic Amnesia (OA). This is short-term memory loss due to brain injury. The most obvious symptom is rapid forgetting. New information fades from memory within a few minutes. Old memories, such as those from childhood, are retained as well as they are in people normally. In OA, the brain damage is permanent, so is the syndrome.
The second is Psychogenic Amnesia (sometimes called Traumatic Amnesia) (PA). This is the loss of one's identity and personal history without obvious brain injury. It is believed that PA results from psychological stress (for example, traumatic events). PA is exceedingly rare. Some researchers question whether it even exists at all given the fact that some patients may fake amnesia to avoid personal difficulties and many patients suddenly recover all their past memories. However, some patients never recover past memories and have to start new lives with new identities.
Dr Myers points out that there is a third "general class of amnesia" sometimes called "Limited Retrograde Amnesia" (LRA). LRA is a temporary loss of the ability to store new memories as a result of brain injury. For example, a person in a car crash may hit their head and lose memories of the few minutes before and after the crash. This commonly happens to boxers, football players, and others who engage in contact sports where they may suffer a blow to the head. Dr Myers says that LRA is not particularly life-impairing since old memories are fine as is the ability to form new memories - only the limited period is lost forever.
50 First Dates is a bit of a departure from the usual Hollywood motif of boy meets girl, boy loses girl, boy gets girl. Instead, boy meets girl, girl loses memory, boy gets girl. It could happen, but there's no "Goldfield's Syndrome". Dr Myers adds that "If there ever was a Dr Goldfield, he obviously didn't publish his syndrome in the correct journals!"
Stephen Juan, Ph.D. is an anthropologist at the University of Sydney.
Liked this article? You can check out all The Odd Body columns here.
Sponsored: Minds Mastering Machines - Call for papers now open