Red Hat feels open source certification vibe
Getting ahead of itself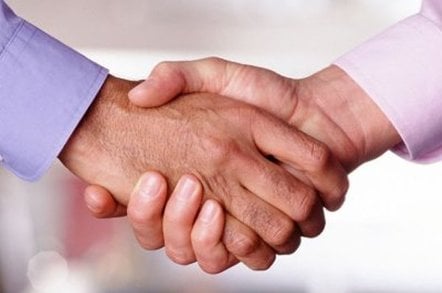 Red Hat has yet to release its first run of certified application stacks for Red Hat Enterprise Linux (RHEL) but already seems convinced it's on to something big. The OS maker has announced that it's looking into two more certification sets.
Tim Yeaton, senior vice president for Red Hat's worldwide marketing, said Red Hat could introduce two more subscription-based services certifying open source and Java software for use with the company's Red Hat Enterprise Linux (RHEL) platform. Red Hat is contemplating this expansion ahead of planned delivery of its first three services that certify a brace of web and open source software components to RHEL. Red Hat's web application stack, Java web application stack and enterprise Java stack are due for delivery in the next few weeks.
Stacks are seen as being the best way to ensure developers get to use the latest versions of web and open source software with the latest edition of Red Hat's Linux distribution. The theory is it's quicker and easier to update small stacks of software rather than wait for Red Hat to test and certify them with each release of RHEL.
Testing and certification theoretically removes the need for customers to undertake integration work with RHEL to ensure the components all work together.
Yeaton told The Register the stacks provide a greater degree of flexibility. Normally, Red Hat must decide at some point to lock-down development of each new RHEL release. The software packages that goes into the stacks, though, come from the community, meaning that they are in a constant state of change.
"We can respond to what happens in the community. We could conceivably add stacks as other light technologies come to the fore," Yeaton said.
Red Hat apparently hopes the stacks will help funnel developers and customers, using a brace of popular open source and web technologies, towards the RHEL platform. Red Hat's first stacks tackle Linux, Apache, MySQL and Perl/PHP/Python (LAMP) in addition to the Postgres open source database, Apache Tomcat serverlet and JSP container, and ObjectWeb Consortium's JOnAS application server.
Yeaton said Red Hat had picked these components following requests from customers, while it expects the LAMP stack to become pervasive among developers.
"We observed in the Java community there are a number of frameworks that are very popular with developers. We wanted to respond... it was a way to provide support without tying customers in to the RHEL release model," Yeaton said.
Testing and certification of open source components takes Red Hat into the same market as start-ups SpikeSource and SourceLabs. These companies are trying to build services businesses that offer customers stacks of open source software that they have pre-tested and certified.
Red Hat differs in its approach to SpikeSource and SourceLabs by certifying only to its Linux distribution. SpikeSource and SourceLabs are going for a broader market, which includes other OSes.®