Microsoft targets Oprah with Windows Vista
You'll laugh, you'll cry - then you'll buy the book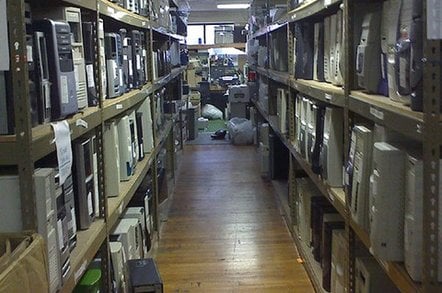 Oprah using a Windows Vista-powered PC? Crazy you say, but anything is possible in the wacky world of Microsoft marketing. Remember the Windows 95 launch? Who doesn't - unless you're one of Microsoft's younger generation of engineers being instructed by management that Windows Vista is this decade's version of Windows 95.
After fanning the hype that secured coverage on the front pages of the UK's leading national newspapers - this was the time "before" the internet, when the mainstream press didn't "do" tech stories - Microsoft's spin team claimed they'd never said Windows 95 was a "cure for cancer". It was just everyone else who got a little over excited.
Oprah Winfrey is regarded by some as the most powerful woman in the US. So powerful, Texas cattlemen prosecuted her in fear that comments she made on TV in 1996 about mad cow disease would cause a stampede of loyal Oprah fans away from burgers. Her book club, meanwhile, influences the reading choices of 800,000 die hard fans.
What Microsoft has in mind this time, according to reports, is getting Windows Vista on Oprah's influential favorite things list. And why not? BlackBerry, Dell and Sony made it.
From the sounds of it, though, Microsoft's Windows Vista team could use a little of Oprah's star pulling power. Microsoft used last week's Intel Developers Forum (IDF) to announce some pretty stunning objectives for the delayed operating system.
Microsoft is gunning for 400m PCs running Windows Vista two years after launch - that launch being planned for November, according to The Official Microsoft Connections Blog (read comments). Putting that into perspective, it took Microsoft two-and-a-half years to ship 130m copies of Windows XP and three years to hit 210m
Microsoft also expects "more than half running some premium edition" of Windows Vista. Microsoft didn't exactly define what it means by "premium" but we can surmise that to mean Vista Business, Enterprise or Ultimate. The plans were revealed by senior product manager Dave Block, who is clearly jobbing for outgoing Windows chief Jim Allchin, who predicted in 2001 Windows XP would lift the PC from its sales funk.
These are lofty targets in normal times, but these aren't normal times. Microsoft now faces an uphill struggle in getting customers to switch from Windows XP, which is - thanks to successive slips in the Windows Vista roadmap - nicely ensconced on millions of PCs. For many businesses Windows XP is doing the job they want it to, especially since XP Service Pack (SP) 2 battened down many of the operating system's security holes. These customers will see little practical need to move to Windows Vista.
Indeed, Windows Vista's advances in security - notably the spanking new Windows Live OneCare annual, subscription-based anti-virus software service - don't appear to be living up to their promises. As Jupiter analyst Joe Wilcox pointed out this week: "A product like Windows Live OneCare has to work all the time, even in beta, particularly when the beta is widespread. No exceptions, no excuses."
Windows Vista does offer some attractions to business users: advances in taking and managing images of Windows will save companies money while controls will let users connect to services without the need for having administrator-level privileges. For the consumer, the XML-based interface means a funkier look and feel and a browser that finally embraces security and tabbed browsing. Internet Explorer even goes a step further in its consumption of RSS.
However, these are a long way from the bold vision that was unveiled for Windows Vista - then Longhorn - in 2003, and subsequently pruned back in order to hit slipping shipment dates.
As 2006 progresses towards this November's planned launch the problem for Microsoft will be in deciding which market to put the most of an expected multi-million dollar marketing budget into attacking: the business or consumer market.
Tricks that require little investment, like pitching Oprah, indicate a consumer push, but it's in the business market where Windows Vista faces the big challenges, in getting those millions of users - especially those on lucrative volume contracts - to dump Windows XP.
Microsoft is apparently relying on a little SKU voodoo here. Windows Vista Enterprise will only available to those on its Software Assurance (SA) program. Problem is, SA has proven rather unpopular among users so Microsoft is hurting its own chances of success.
That's not the only problem. Typically over-zealous market segmentation from Microsoft will likely confuse users and OEMs about which SKU to use. The six planned SKUs feature two home and two business editions - ok, that's fine - plus something called "Windows Ultimate". What's that? Microsoft describes Windows Vista Ultimate as something that: "Brings together all the entertainment features, mobility features and business-oriented features available in Windows Vista."
Does that make it a replacement for Windows Vista home or business editions, or is it an alternative to both? And under what conditions will I want to shell out more for this product?
Ironically, the strongest card Microsoft has to play is the very fact that Windows XP is getting so old: at five years of age, Windows XP is starting to exceed even the most conservative of business user's upgrade plans and that's when this becomes a hardware play. By now customers will need to update aging PCs running Windows XP and, as a result, Windows Vista will be introduced into companies' IT infrastructure through natural process.
That means, though, it will take more than Oprah to deliver those sales targets. Microsoft will need to clearly explain to OEMs which version of Windows Vista suits which market, and then help OEM partners convince business users. ®