Fujitsu and Tyan flex their Opteron eight-packs
A 7U blade and a space heater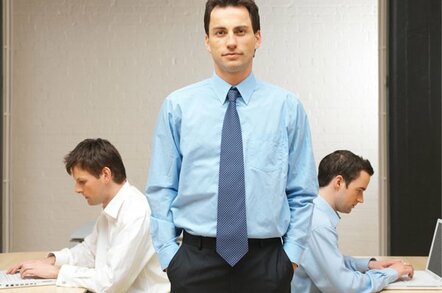 Call it the Cramming Game. Fujitsu and Tyan struck out this week with compact new Opteron systems. Fujitsu went the blade server route, while Tyan showed a type of Opteron space heater outfitted with handles and wheels.
In the second quarter, Fujitsu will ship an eight-socket blade centered around AMD's 2.6GHz dual-core Opteron chips. The BX630 will slot into Fujitsu's existing BX600 chassis and sit alongside Xeon-based BX620 systems. The 7U (12.25 inches) high chassis can hold up to 10 blades.
The eight-socket blade stretches well beyond what any other Tier 1 vendor currently offers in the way of Opteron boxes. Sun does have a standard eight-socket Opteron box that it sells to select customers and plans to release in volume later this year, but the vendor has no blade products to offer at this time. Meanwhile, HP and IBM play mostly in the two-socket market and don't venture past four-sockets.
Smaller suppliers such as Tyan and Supermicro make eight-socket boards that can slot into a 1U server.
Fujitsu used the old "modular" pitch with its latest blade.
"The AMD Opteron architecture features AMD's HyperTransport interconnect, which is a critical component in the PRIMERGY BX630 blade server's modular design," the company said. "This interconnect makes it possible to link two PRIMERGY BX630 2-socket blades into a single 4-socket blade, and then link two of these 4-socket blade into a single PRIMERGY BX630 8-socket blade."
While Dell uses Fujitsu's blade design, don't expect the cowboy hardware maker to churn out any Opteron-based gear. Dell remains stuck in the Lone Supplier State.
The eight-socket BX630 will start at close to $36,000.
Tyan has managed to pop eight dual-core Opterons into its Typhoon Personal Supercomputer (PSC). The company takes four, dual-socket blades and slots them into a handy carrying case. This puppy has two handles and a set of wheels for those moments when you need to cruise your supercomputer around the office and pick up the nerdy chicks.
You can have a look at the system here.
Tyan hasn't done anything all that spectacular with the design other than the handles and wheels, and we wonder if this box presents a real advantage over buying four separate and, no doubt, cheaper desktop systems. That said, some researchers might want a real workhorse of a cluster that they can wheel into non data center environments like a wet lab, and this puppy should do the trick.
Rocketcalc makes comparable and better looking kit.
The performance per watt advantages and Hypertransport technology of Opteron have allowed all of these companies to offer twice as dense AMD systems as their own Intel-based gear. Intel hopes to change that scenario in the coming months with better server chips. ®