Microsoft accuses Office rivals of 'standards conflict'
Open Office, StarOffice - just not that good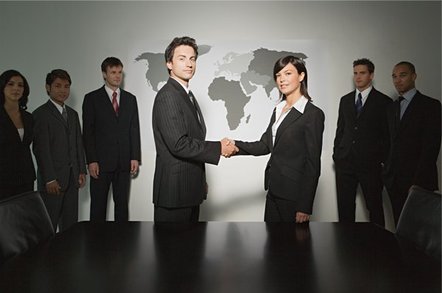 Microsoft is digging in against an alliance pushing OpenDocument Format (ODF), accusing IT rivals of creating "standards conflict" to mask the fact they are lagging Microsoft's Office in terms of functionality.
Jason Matusow, Microsoft's director of corporate standards, told The Register Tuesday IBM and Sun Microsystems have an economic agenda in advancing ODF, which is used by both their StarOffice and Workplace desktop products.
Matusow was speaking after a group of 35 IT vendors and government organizations announced the formation this week of the ODF Alliance. Those backing ODF include long-time Microsoft rivals IBM, Sun, Red Hat, Oracle and Novell.
While the ODF Alliance hopes to encourage uptake of ODF in governments around the World, Microsoft is pushing a rival set of XML formats for desktop suites, the Office XML File Format. Microsoft is working with a smaller group of customers and vendor partners to have its Office file formats ratified as standards through the European Computer Manufacturers' Association (ECMA).
Matusow believes the final Office XML File Format standard will be picked-up by vendors apart from Microsoft leading to multiple implementations. He said Sun and IBM are advancing ODF as an "exclusive standard."
"The alliance is an effort to push an economic agenda with a competing product," Matusow said.
Matusow said customers and vendors should pick the file format and product based on value. To that end, Matusow believes products using ODF lag Microsoft Office in areas like the functionality of spread sheets.
"These are problems we solved. They are going to go back and solve problems we have already solved. By pushing the format conflict they are looking to deflect some of the shortcomings in their product today," Matusow said.
His words echo those of Alan Yates, a general manager for Microsoft's Information Worker group, who dismissed Open Office.org - the foundation for Sun's StarOffice - as "being 10 years out of date."
"Open Office is fine if you have very limited needs because it was really designed around what Microsoft Office products were designed around 10 years ago," Yates told iTWire .®
Sponsored: Webcast: Why you need managed detection and response