Sun's McNealy wants to take MS security staff hunting
'Kaboom!'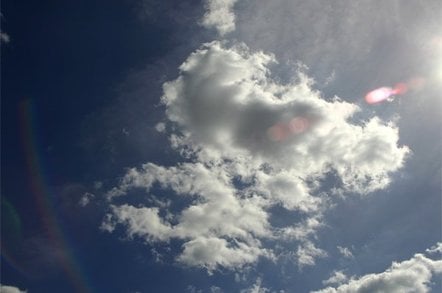 RSA Sun Microsystems CEO Scott McNealy's newfound love for Microsoft evaporated Tuesday, as he dished out one barb after another against Redmond here at the RSA security conference. The jabs came as part of a larger pitch from McNealy that diversity in the data center and homogeneity on the desktop give rise to insecure networks.
Ever since Sun and Microsoft signed their $2bn peace accord, McNealy has done his best to retire years of comic material bashing Windows (a hairball), IE (internet exploder) and C# (C flat). Such restraint vanished when McNealy took the stage just about an hour after Gates' opening keynote at the RSA event. It seems the security-focused setting proved too temping for Sun's brash CEO.
One of the items on McNealy's top ten list of security nightmares was: You just got a new job, and it's an all Microsoft shop. Another item was "being told you have a patch to patch" and another was a jab at any company that would give "superuser, root level access to all."
Ah, but that was just the beginning.
McNealy then encountered a series of problems with his PowerPoint StarOffice Presentation, er, presentation.
"This isn't Windows, is it?" McNealy asked. "I take it back, Bill. I take it all back."
McNealy launched a few more quips at "Wintel space heaters" and made a crack about taking Gates on a Dick Cheney-style hunting trip. "Kaboom!" he said.
Laughs aside, McNealy insists that security is a pressing matter – a fact which became more real for the chief recently. He received an e-mail from a partner saying that an employee's laptop had been stolen containing McNealy's social security number and name. "This (note) comes from an organization that we spend enormous amounts of money with to determine that we're (Sarbanes-Oxley) compliant . . . I wish you could see the e-mail I sent back."
McNealy sees data centers as being hopelessly insecure beasts. Customers buy servers, storage, networking gear and other hardware components from various vendors. Then, they layer on different operating systems, databases, middleware and management applications from even more vendors. Administrators must manage the mess of patches, upgrades and updates that pour in on a daily basis – an impossible task, according to McNealy.
To fix this problem, customers should buy standardized data centers from – you guessed it – Sun. The company builds most of its own hardware and has OS, middleware, database and management software tuned for its kit. McNealy likes to call this the "you can buy any car as long as it's black" approach to data centers.
Where variety is the spice of insecurity in the data center, similarity is killing the desktop.
"On the desktop, everybody is using the same thing," McNealy said. "A really effective virus can knock out every desktop in the government. . . . There isn't enough genetic diversity on the desktop."
This problem is driven by the "desktop monopoly that will go unnamed because we are partners now."
To fix the desktop crisis, customers should pick up Sun's thin client.
How's that for an original message?
Yes, Sun has been plugging the venerable thin client for longer than we care to remember. These terminals connect into back-end servers, placing the administration burden on, well, administrators instead of the average PC user. In addition, they consume less power and have no moving parts, making the products quiet and reliable. Users simply slide a smart card into the thin client terminal to pull up their files.
Few argue that this seems to be a smarter, safer, more pleasant mode of computing, especially in a business setting. Thin clients, however, never seem to sell well. Although, McNealy claims they are currently one of the fastest growing products in Sun's portfolio.
(Please send your Sun portfolio jokes to Scott.)
McNealy also revealed a couple of new security products from Sun.
In the coming weeks, Sun plans to ship the Crypto Accelerator 6000, which is a hardware security module (HSM) that slots into x86 and UltraSPARC servers. The product starts at $1,350 and includes support for IPsec, IKE and SSL protocols, a set of public key and symmetric crypto algorithms; Secure remote key management as well as a local, direct key management interface, split-key quorum key management and Financial service PIN and credit card validation. The product will work first with Solaris boxes and then Linux boxes by the summer.
Sun also plans to start shipping its Trusted Extensions pack for Solaris 10 in the summer. This software gives standard Solaris users some of the security features found on Sun's version of the operating system built for high-security government customers.
Last but not least, Sun announced that its Web Server 7.0 will support Elliptic Curve Cryptography (ECC).
And to leave you with a joke, here's McNealy's take on the expense of fixing damage done by viruses.
"The cost of viruses is higher than the revenue generated by the company that sells the Petri dish." ®