Seagate preps Iomega, iVDR killer
'Tornado' to blow removable-disk rivals away?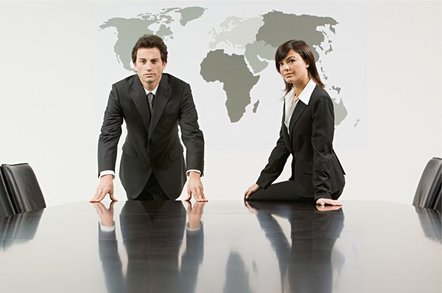 CES Watch out, Iomega - Seagate has you in its sights. The hard drive giant used the Consumer Electronics Show in Las Vegas to sound out the industry on a scheme to create a new removable hard disk drive standard.
The system isn't so far removed from Iomega's Rev product. Having offered RHDD products in the past in which only the platter was removable, Rev placed the read/write heads, drive motor and core drive electronics inside the cartridge, the better to isolate the platter from data-damaging dust.
Seagate's system, shown this week in prototype form and codenamed 'Tornado', packs in a regular HDD, linked to the outside world through a standard External Serial ATA port, the company told The Register. The drive is hot-swapable, and connects through the ESATA connector to a cradle which, in turn, connects to a PC's USB 2.0 port.
Seagate would provide no timescale for the system's commercialisation - the CES demo is about running the concept up the proverbial flagpole to see if consumer electronics, computing and other companies salute it. Seagate staffers envisage partners producing a range of dock-like products, some to connect the drives to PCs, others incorporating media codecs and AV ports allowing them to play stored music and movie files straight onto a TV screen. Car makers might build Tornado-sized, ESATA-equipped slots into their in-car entertainment systems. So might PVR manufacturers. The list of applications, they claim, is endless - and these are just consumer-oriented roles.
Seagate's concept also borrows from the iVDR (Information Versatile Disk for Removable) drive system pioneered in Japan by the likes of Hitachi, Fujitsu, Pioneer, Hitachi, Sanyo, Sharp JVC and IOData. Hitachi was showing a range of iVDR disks and devices on its CES stand, too. As yet, it and its partners have had little success building momentum for the format outside of Japan.
Like Rev, iVDR shipped in 2004, so it's probably due a revision. Seagate's Tornado isn't ready to replace either Rev or iVDR yet, but if it garners solid industry support, it could well become the removable drive system to beat. ®