Nvidia to out-sell ATI in 2005 - analyst
Reverses 2004 situation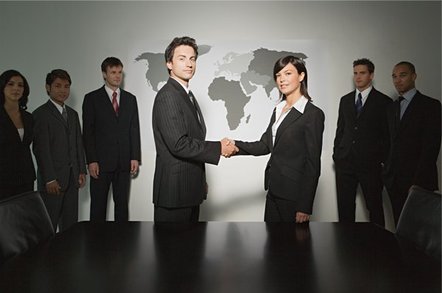 Nvidia will sell more chips this year than ATI, reversing a trend established in 2004, the latest market forecast from researcher iSuppli reveals.
iSuppli's numbers track semiconductor sales from all the major chip makers. Nvidia and ATI turn up at number 24 and 25, respectively, on the list of the world's biggest semiconductor manufacturers. They account for 0.9 per cent and 0.8 per cent, respectively, of global chip sales in 2005, the researcher reckons.
According to iSuppli's numbers, by the end of 2005, Nvidia will have sold $2.063bn worth of chips, while ATI will have sold $1.992bn, just 3.4 per cent below its arch-rival's sales.
In 2004, ATI sold $1.913bn worth of chips, 13.9 per cent more than Nvidia's $1.68bn revenues.
Year on year, Nvidia's sales rose 22.8 per cent, while ATI's were up just 4.1 per cent.
The numbers are not final, with the fourth-quarter contribution to the year's total sales estimated by iSuppli. In Q3, ATI took 26.2 per cent of the PC graphics chip market, to Nvidia's 17.8 per cent share, according to market-specific numbers from Jon Peddie Research. ATI was down slightly on the previous quarter, when it took 26.8 per cent of the market, while Nvidia was up, from 15.9 per cent.
The iSuppli numbers will factor in Nvidia's non-graphics chips, such as its popular AMD-oriented chipsets, which until recently did not include a graphics component. It also includes non-PC graphics products, such as the image processing chips both ATI and Nvidia sell to set-top box, TV and mobile phone makers, for example.
Both chip makers are expected to launch new 90nm GPUs next quarter: ATI's R580, and the GeForce 7600 (aka 'G73') and 7200 ('G72') from Nvidia. ®