Intel 'Broadwater' chipset to ship 'Q2 06'
Four chipsets pipelined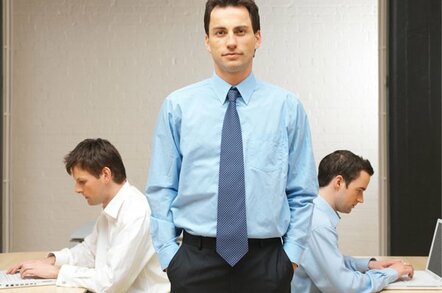 Intel's follow-up to its 945 chipset family, the 965 series, will ship in Q2 2006.
So claim unnamed sources cited by DigiTimes who claim to have seen the chip giant's roadmap.
The 965 family, codenamed 'Broadwater', will divide into four lines, the sources claim: the P965 and G965 for consumer-oriented systems, and the Q963 and Q965 for business-class machines. Both pairs of the chipsets will be offered as part of Intel's 'Bridge Creek' and 'Averill' platforms, respectively.
Ultimately, the 965 will be extended with mobile chipsets, but with the Centrino-oriented version of the 945, the 945M, hitting the market in Q1 2006, it will be some quarters before the mobile 965 makes its debut.
Three of the four 965 sub-sets will support DDR 2 SDRAM clocked at up to 800MHz effective - the Q963 only goes up to 667MHz - but they are all expected to support a frontside bus clock speed of 1066MHz. The P965 will be Intel's mainstream discrete desktop chipset, but the G965, the Q963 and Q965 will all contain integrated graphics engines, presumably the next version of the GMA series.
The two enterprise-oriented parts will support Intel's Stable Image Platform Program. The Q965 is also said to support Intel's Active Management Technology.
Intel's 975X chipset, the successor to the 955X, and which was expected to ship alongside Broadwater, looks like it could debut earlier than anticipated, having been announced as the foundation for soon-to-ship motherboard products, most notably from Gigabyte. The 975X is also likely to be a key component of Intel's upcoming media centre platform, Viiv. ®
Sponsored: Becoming a Pragmatic Security Leader