DVD-RAM backers promote rival format
DVD+RW explicitly named on drives, not DVD-RAM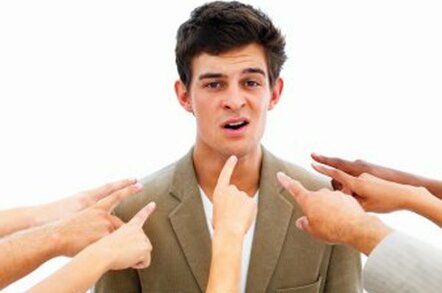 Analysis Backers of the DVD-RAM re-writeable DVD format have a problem: how can they persuade PC users and consumers that their format is the best one to adopt? But in their efforts to promote the optical disc technology they could be their own worst enemy.
The Recordable DVD Council (RDVDC), which oversees the standard, is quick to list the format's advantages: its speed, true random accessibility, integrated defect management, its applicability to both PC and CE roles, and improved long-play video recording quality.
DVD-RAM has traditionally been strong in Japan, but it has fared considerably less well elsewhere. In part, the RDVDC admits, that's down to a lack of awareness and the resultant difficulty some adopters have had getting their hands on media. An RDVDC offshoot, the RAM Promotion Group (RAMPRG), was formed to combat ignorance of the format, and a number of its members last week told The Register that today DVD-RAM discs are as readily available as DVD-R/RW and DVD+R/RW media.
That's important, because the format war is now a media play, and has been so since the start of the year. Since then, the market has been divided almost exclusively between drives that can handle every re-writeable DVD format, and those that have only 'plus' and 'minus' media.
A forecast from Japanese market watcher TSR provided by the RAMPRG shows that until Q2 2006, DVD±R/RW drives will outsell those that also support DVD-RAM - products the RDVDC calls 'Super Multi' drives.
The bottom line, then, is that probably now - and certainly come Q2 2006 - the popularity of a given format is measured not by the type of drives consumers purchase but by the media the select. Figures are hard to come by, though last March, numbers we saw put the plus and minus formats neck-and-neck with nine per cent and five per cent, respectively, of all global DVD sales, both recordable and re-writeable. That left DVD-RAM with just three per cent of the market in Q1 2005, and it's unlikely to have grown its share significantly in the intervening period.
Better media availability will help. But the RAMPRG is arguably hindering as much as helping. Invited to a demo of 16x DVD-RAM drives and media ahead of their formal launch this past weekend, we were surprised to see no drive explicitly marked as DVD-RAM.
"That's what the DVD Multi-recorder label means," we were told. Clear as mud, we thought.
Ironically, all the drives on display were stamped with the DVD+RW logo. So while RDVDC members are not only failing to make it obvious that products support DVD-RAM they are also making it abundantly clear that their products definitely support a rival format.
Ask yourself, if Joe Sixpack buys a new PC with a rewriteable DVD drive and decides to go and buy some discs to use with it, what's he going to get? DVD-RAM, because he knows that's a DVD Multi-recorder supported format, or DVD+RW because that what's what's written on the front of the tray?
One way around the problem would be to use the 'Super Multi' terminology and drop the DVD+RW logo, but of course, as RAMPRG members confessed, "we don't... er... actually have one".
To be fair, the RAMPRG is working to educate dealers and retailers about DVD-RAM and its advantages, the better for them to push the format to their customers. Yet none of the RAMPRG member companies we spoke to last week said they highlight DVD-RAM as the preferred format in consumer DVD recorders that incorporate DVD-RAM support - in the manner, say, of washing machine vendors and washing powders.
Q2 2006 isn't that far away, and with the shift toward media away from drives, DVD-RAM supporters looking to grow the popularity of their favoured format will need to do more to highlight it than they appear to be doing today. ®
Sponsored: From CDO to CEO