Microsoft charging more, giving more?
Introducing Office server... and more expensive CALs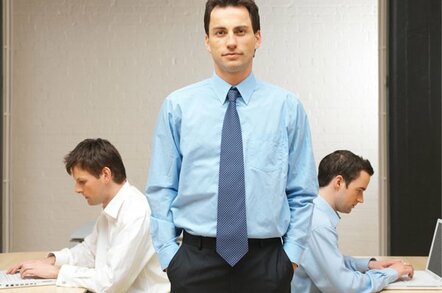 Microsoft is planning more expensive versions of Office and Windows during the next few years, to sustain growth and mitigate customer opposition to upgrades. Chief executive Steve Ballmer said Thursday that Microsoft wants to increase Office revenues fourfold by the end of the decade, with a new "Office Server" product and more expensive client access fees key to the strategy.
Alongside the new Office Server category, Microsoft is also developing a Premium edition of Office, and an "enterprise edition" of Windows Vista, the delayed Windows client that Windows client senior vice president Will Poole said would ship during the 2006 holiday season.
But likely to prove controversial is Microsoft intention to charge users an additional "premium" client access licenses (CAL) to use these higher-end versions of Office and Windows. Ballmer and other executives were light on specifics today, although in the Office market at least Microsoft seems to be going beyond its current high-end edition of Office Professional Edition, which is priced at $388.49 per copy.
"We have plans in the Windows Vista generation to introduce an enterprise edition," Ballmer told Wall St during Microsoft's annual financial analyst summit in Redmond, Washington.
"We think of a new concept that we call the Office Server," Ballmer continued. "It will have associated with it a new premium client access license. And when you take a look at all of the premium work that we're doing in management, and security and e-mail, we think about a new premium client access license also for our Windows product."
Ballmer outlined the plan as part of a strategy to increase revenue in what he defined as Microsoft's anchor business, consisting of Windows, Office and servers.
"We will... introduce higher-value versions of existing products that really help us drive new growth and new value. We did that with the Professional edition of our Windows product, and it drove literally billions of dollars of revenue growth versus the home version," Ballmer said.
The move to create new, higher-price product stock keeping units (SKUs) appears to be an attempt to offset the negative affect on future growth caused by reluctance from customers to upgrade to new versions of software, especially Office.
According to recent figures, just 15 per cent of PCs are running the latest version of Office 2003, yet its successor, Office 12, successor is now firmly on the horizon.
An Office Server SKU and new CALs is an attempt by Microsoft to shift the perception away from Office as something comprised of "just" Word and Excel, to a perception of Office as an integrated server-based environment. The Office bundle market, Microsoft said, is worth $10bn, while it wants the latter will be worth $40bn by the end of the decade.
Information Worker division president Jeff Raikes, speaking after Ballmer, said: "The key is to get into new business and successfully execute in those markets."
Microsoft also sought to address the potential desktop challenge from rival open source products like OpenOffice and StarOffice. We sell more Office licenses and solutions per week than OpenOffice and StarOffice combined do in a year. We are doing very, very well from a competitive stand point," Raikes claimed.
Microsoft's decision to introduce more SKUs and charge higher prices, though, will expose the company to more accusations from competitors that is gouging customers while IT budgets are tight. Sun Microsystems has been pushing StarOffice as a low-priced, subscription-based alternative to Office to help customers overcome the pricing issue.®
Related stories
Window closing on Office 2003
Microsoft's Ballmer tells lurvely partners to stick it to IBM
Vista - searching for something fresh