RACK goes Nasdaq with humble IPO
Is Rackable backable?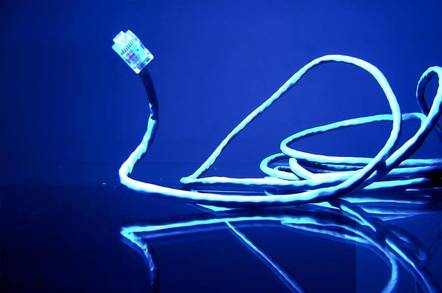 What's that? A hardware start-up IPO? You jest surely.
Yes, friends, it's true. Rackable Systems today hit the Nasdaq with a ticker symbol any RAID-loving, x86-embracing, Linux kernel counting administrator can embrace - RACK. The company's IPO had 6.25m shares being offered at $12 per share. As of writing, Rackable's shares were up just 3 per cent at $12.40 on pretty light volume. So it goes.
Rackable may not be the hardware world's version of Google, but it's still impressive to see a server company brave enough go public in this era. Plenty of hardware start-ups exist. Few, however, have shown much success in recent years. And those that have done well tend to end up in the clutches of IBM, HP and Sun Microsystems.
Rackable takes Dell's no-frills approach to x86 servers and then focuses right in on customers looking for large quantities of systems. It does a nice job of fitting lots of boxes in relatively small spaces and keeping heat and costs down. You can almost think of it as an RLX-like company that got so called high-density systems - blades, 1Us, 2Us - and the market for such kit right. Rackable also sells storage to go along with its server systems.
Some of its high-profile customers include Microsoft, Yahoo! and Oracle.
That's the good news.
The potentially bad news for investors is that Rackable's revenue swings up and down based on the whims of a small number of customers. In its March '04 quarter, Rackable posted $18m in revenue and then boosted that to $35m in the following period. Then revenue fell back down to $34m in the next quarter. So, not the type of constantly increasing revenue you'd like to see from a start-up.
In a regulatory filing, Rackable was upfront about the nature of some of these fluctuations.
"For example, our largest customer in fiscal 2002 accounted for 32 per cent of our revenues, but this customer only accounted for 6 per cent of our revenues in fiscal 2003 and none of our revenues in the first nine months of fiscal 2004," it said. "Similarly, our largest customer in the first nine months of fiscal 2004 accounted for 42 per cent of our revenues, but only accounted for 1 per cent of our revenues in fiscal 2003."
Microsoft and Yahoo! have historically been the two biggest customers for Rackable.
This story matches fellow compact server player Egenera, which depended on a large chunk of sales to a small number of financial services companies and looked last year at an IPO as well. Egenera subsequently gave up on the IPO bid.
Rackable also faces the standard competition from IBM, HP, Dell and Sun - all of which also hope to sell clusters of Windows and Linux servers.
The start-up plans to use the IPO proceeds to redeem preferred stock held by its investors and then use remaining funds as working capital.
In its most recent quarter ended March 31, Rackable showed 69 per cent growth with revenue of $31m and a net loss down 69 per cent to $4.4m. It said a boost in Opteron server sales was a big help.
Rackable doesn't have the look and feel of a real high-flyer, but if it can expand the old customer base while keeping costs down and support high, it may have a nice run yet. ®
Related stories
Sun exits blade server market . . . for now
IBM thrusts x460 servers into the eye of the Hurricane
IBM unsheathes Cell blade server
Sponsored: Becoming a Pragmatic Security Leader