IBM moves onto JBoss turf with Gluecode buy
JBoss relishes challenge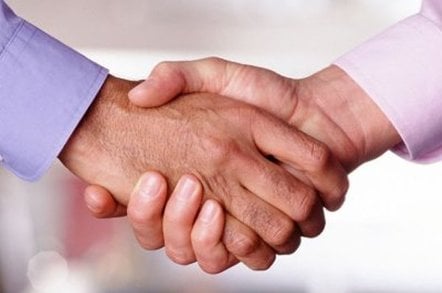 JBoss hopes to rally competitors to IBM around its open source middleware stack following IBM's purchase of application server start-up Gluecode.
Bob Bickel, JBoss vice president of corporate strategy and development, told The Register his company already has deals in place with systems integrators that will be announced early next month. But he hopes IBM's Gluecode deal - announced Tuesday - could lead to further partnerships.
Bickel said: "We have big SIs that are more committed [to JBoss] than ever before. We may end up collaborating with the people who don't want to deal with IBM."
Deals with SIs follow partnerships with Hewlett Packard, Novell and SGI to support the company's open source application server.
Bickel added IBM's entry into open source application servers would help expand JBoss' customer and partner base because it "validates" the open source middleware concept.
He was speaking in the wake of IBM's Gluecode purchase - a move that will increase the competitive pressure on JBoss. IBM will use Gluecode as a low-end, low-cost, entry point to the WebSphere Java 2 Enterprise Edition (J2EE) application server family with plans to also provide subscription and support services.
In a further competitive twist, IBM plans to become an active contributor to the Apache Software Foundation's Geronimo open source project - Geronimo forms the kernel of the Gluecode Standard Edition application server. IBM also plans to contribute software to the open source community so Eclipse-based tools can be used to develop, debug and deploy Geronimo-based software.
IBM's move has a touch of deja-vu about it. By turning its attention to a clearly identifiable opponent, JBoss, IBM is following the same course of action it took against BEA Systems in application servers. BEA is now regarded as the industry's number-two application server in terms of market share behind IBM, according to analyst Gartner, following an aggressive sales, marketing and services campaign by IBM.
Bickel predicted JBoss has "clear sailing" in the immediate future, because Gluecode requires some development. He noted, though: "This is clearly IBM moving into the turf that JBoss defined... we have to make sure we have a good offering and keep customers happy."®
Related stories
JBoss moves up to business processes
Busy month for JBoss
IBM launches Websphere 6