IBM thinks ahead with speedy midrange storage dynamo
Cracks 4Gbps barrier. Rivals scoff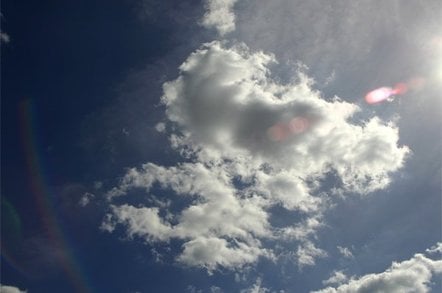 In the sometimes dull world of storage, IBM has made a bold move against competitors such as EMC and HP by releasing the first four gigabit per second Fibre channel box from a Tier I vendor.
Well, "release" isn't the best word. IBM won't actually deliver the new TotalStorage DS4800 until June 17. So that gives rivals a bit of time to match IBM's speedy gear, but the competition isn't expected to do so. They think 4Gbps boxes are a bit premature.
IBM has centered the 4Gbps DS4800 around dual, hot-swappable Engenio 6998 controllers and SANtricity management software. The storage server sits at the top of IBM's DS4000 line of systems, outclassing the previous top dog DS4500 box with 3 times better performance. So we're talking a very fast, very capable midrange system that starts at $54,000. All told, the system can store up to 67TB.
Companies such as StorageTek and SGI have 4 Gbps boxes out on the market today, but the major players - EMC, HP and even Sun - are still lagging. So what gives with IBM's move?
"To stay at the head of the pack competitively, vendors sometimes face the prospect of walking along the leading edge of the market, a lonely, expensive exercise, in hopes of transforming early adopter straw into long-term customer gold," writes analyst Charles King in his Pund-IT newsletter. "Vendors win when they deliver products whose benefits both overshadow previous solutions and complement emerging technologies for which few clients have any immediate use. IBM's TotalStorage DS4800 qualifies as just such a solution."
That's a pretty glowing report from a not very easy to impress analyst.
Along with having three times the performance of the DS4500, the new system "also offers twice as many host and redundant drive channels, four times the total drive channel bandwidth, and as much as eight times the dedicated data cache compared to the (old box)," King continues.
The other, major vendors aren't expected to deliver 4 Gbps gear until "a demonstrable market exists." That's not such a bad strategy given that 4 Gbps-enabled hard drives won't ship until late 2005 or the beginning of 2006. IBM, however, is determined to be the trendsetter here.
Basically, IBM has delivered a box that meets near-term performance needs but still has forward-looking technology to keep customers happy over the next couple of years. ®
Related stories
Sun buys $50m worth of NAS software IP
IBM to fix bad quarter by axing 13,000 jobs
DataCore gets cheap and dirty with iSCSI SANs
EMC wags new NAS giant at rivals NetApp and IBM