IBM's Opteron ruse falls to long-term Intel love
Together forever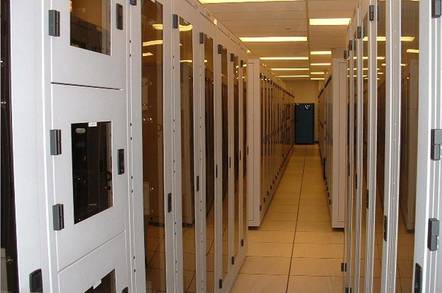 IDF Spring 05 Not too long ago, IBM stood proud with AMD at the Opteron processor's unveiling. It was the only major server vendor to do so, and many perceived the move as a shot at Intel. A lot, however, has changed since 2003.
IBM last month announced its new Hurricane chipset for the xSeries line of servers. The product garnered a lot of attention first for its apparent strength in boosting the memory performance of basic servers. Hurricane also caused a stir because, unlike its predecessor, it won't support Intel's 64-bit Itanium processor. But reporters and analysts largely ignored the fact that IBM shunned Opteron as well when making its future x86 server plans.
Unlike rivals HP and Sun Microsystems, IBM appears to have little desire to make Opteron a central part of its server line. HP and Sun have put considerable investment and energy into creating unique, homegrown Opteron servers. IBM, by contrast, looks content to buy third-party designed Opteron hardware, leaving serious research and development work for Xeon-based systems.
"I think IBM looked at the market and said, 'Let's go with the leader,'" said Jonathan Eunice, an analyst at Illuminata. "I think they realized they really could do better by getting and staying tight with Intel."
IBM's fondness for Opteron once seemed like a serious public relations victory for AMD. There was Big Blue backing an upstart rival to Intel's Xeon line. The move made sense given that IBM and AMD partner around chip fabrication and since IBM's own Power processors compete against Intel's chips.
The large investment in Hurricane, coupled with IBM's failure to even mention Opteron these days, show that the fleeting AMD flirtation was just for show.
"IBM's benefit for standing with AMD is reduced since HP and Sun are there (with Opteron) so strongly," Eunice said. "IBM looked at how much of its business is selling Opteron and Itanium servers, and the business case for backing Xeon quickly became pretty clear. This is a way of really cementing the relationship with Intel."
IBM customers may look at the strong Opteron benchmarks floating around, and wonder why the company is so set on Xeon. Hasn't AMD outdone Intel with regard to performance and scale in the x86 market? Many analysts would say, "Yes!".
With Hurricane, however, IBM has managed to make up for Xeon's key failings.
"Opteron has excellent memory performance," Eunice said. "But AMD's technology is just one way to solve memory latency. (Hurricane) is basically another way to solve it."
There are no Hurricane-based systems on the market just yet, so it's hard to do serious comparisons with Opteron boxes. But analysts familiar with IBM's technology give it top marks. In particular, they've proven impressed by IBM's use of a virtual cache to get the latency down on memory access. IBM's Hurricane boxes may well give Opteron kit a real challenge.
The trouble spot in the coming years for IBM will likely come via price/performance comparisons. Dell, which doesn't spend money on its own chipsets, will try and win the low-end of the Xeon market by undercutting IBM. HP and Sun may see some price/performance advantages by going with traditionally cheaper chips from AMD.
What's clear though is that IBM isn't too concerned about these challenges and believes Intel is the right bet for the long term. Whatever games it once played with AMD are over. It may dangle a couple of Opteron boxes at customers, but it's certainly not investing anywhere near the resources in AMD's product as it does for Xeon. ®
Related stories
Intel confirms Itanium has a future
Microsoft to end 64-bit Windows endurance test in one month
HP and Intel hire Asian helpers to make Itanium cheap
Intel to ship dual-core Xeon MP in Q1 06
Intel misses Itanium sales mark by $26.6bn
Is IBM shutting down its Itanium shop?
IBM dominates dull Q4 server market
Dell rejects idea of AMD defection
IBM douses Xeon servers with Hurricane