DVD Forum backs CD/DVD hybrid
DualDisc format now official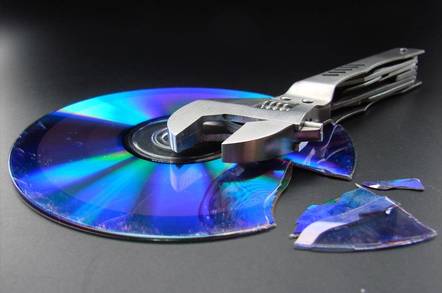 The DVD Forum has given is official thumbs-up to DualDisc, a DVD/CD hybrid format.
The approval paves the way for a more rapid adoption of the DVD Audio format. DualDisc essentially sticks a CD onto the back of a DVD or DVD Audio disc. The idea is that punters will be able to, say, play higher quality DVD Audio content at home and use the same disc to play the same music in their car's CD player.
The DVD specification limits disc thickness to 1.5mm, which is possible to meet using a slightly thinner CD layer than is found on regular CDs and a single-layer DVD.
DualDisc should allow music labels to promote DVD Audio without forcing customers to lose some the playback flexibility they've come to expect from CD. It will also allow them to offer CD/DVD combos on a single disc rather than the two (one CD, one DVD) that such packages usually contain.
Ultimately, the industry may ship to so-called 'single inventory' products, using DualDisc to physically merge their CD and DVD Audio offerings into a single disc in a single case. While disc production costs would rise, the labels could make significant savings on inventory and distribution costs.
To date, all five major labels - Sony Music, EMI, Bertelsmann Music Group, Warner Music Group and Universal - have all test-marketed DualDiscs in the US. Sony's participation is interesting given it is touting its own next-generation music carrier, Super Audio CD (SACD).
The DVD Forum itself ratified the format last week at a Steering Committee meeting in Seattle, a spokesman said. "DualDisc is officially approved by [the] DVD Forum," he told HighFidelityReview.com. ®
Related stories
Forum approves Apple music format for DVD Audio
DVD Forum punts blue laser HD-DVD
DVD Forum denies AAC for DVD Audio approval
DVD Forum chooses Apple music format for DVD Audio
Belgian watchdog sues record biz over copy protection
Blu-ray founders rename, open group to new members
Japanese boffins perfect paper Blu-ray disc
Sponsored: What next after Netezza?