ReadytoSurf offers six months' Wi-Fi access for £50
Not as unlimited as all that?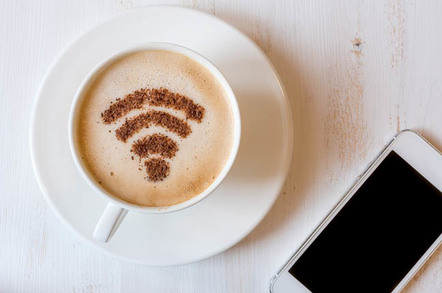 Update Broadreach Networks, which offers fixed and wireless Internet access under the ReadytoSurf brand, has revealed details of its low-cost unlimited Wi-Fi access package.
However, the deal, which provides six months' access to any of the company's 200-odd hotspots, for a flat payment of £50 ($92), turns out not to quite as "unlimited" as the company suggests.
In fact, the deal yields a maximum of just four hours' access a day.
According to the offer's terms and conditions: "In this context 'Unlimited' means up to four hours per day. If we are reasonably satisfied that the Offer Account is being used by multiple individuals, or if it is consistently used for more than four hours per day, we may suspend or terminate your Offer Account without refund."
CEO Magnus McEwen-King said that anyone using their account for more than four hours will not be automatically cut off. "We merely reserve the right to look at and if necessary disconnect accounts that have a usage level above this on a consistent basis," he said. The reason: like the two-hour automatic log-off, it's a "fraud/abuse protection measure". It stops users from hijacking the links to set up servers or to use the link for spending spam.
"We're also being kind to the user," he said. This way, no one can, say, stay logged on overnight in their hotel room, clocking up charges, he said. "If you forget to log-off, the worse you'll lose is two hours' connection time."
In any case, while four hours a day isn't much, perhaps, the £50 offer still works out at a rate of seven pence an hour, provided you're online for four hours a day throughout the whole six-month period. That's is significantly lower than the rate offered by Broadreach's rivals. T-Mobile, for example, now charges £5 for a single hour's access.
Broadreach currently has some 200 hotspots active right now and expects that total to rise to 300 by the end of September. The company has access points in locations as diverse as Little Chef eateries, Virgin Megastores, Eat Cafés, Esquires coffee shops and Bagel Factory outlets. It is also rolling out hotspots in the UK's major railway stations, including London's Victoria, Waterloo, Cannon St, Fenchurch St, Kings Cross, Charing Cross, Liverpool St and London Bridge stations, plus Gatwick Airport, Leeds, Liverpool Lime St, Glasgow Central and Edinburgh Waverley. It already covers London's Paddington and Euston, along with Manchester Piccadilly, Stoke on Trent, Coventry and Birmingham New St.
The offer closes on 31 March, and is available to anyone who registers as a ReadytoSurf user before that date. The offer account itself runs until 30 September, at which point it will automatically become as standard ReadytoSurf account. However, users will have to purchase time before they can continue to use their account, ensuring that they are not forced to pay the new rate, McEwen-King said.
Broadreach has not yet decided the price but will announce the figure in two weeks' time. ®
Sponsored: Becoming a Pragmatic Security Leader