Server vendors unite for the common good
Interface orgy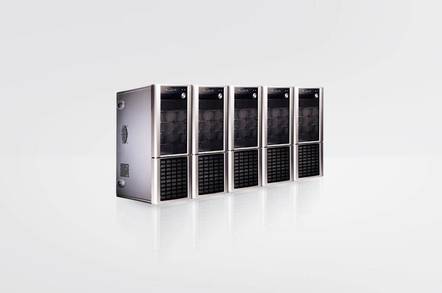 In a rare showing of unity, all of the major server players have come together to support the creation of a new interface standard for managing hardware.
Intel, Dell, HP and IBM stole top billing in an announcement from the Distributed Management Task Force (DMTF), touting the new CIM (Common Information Model) specification for servers. Other vendors such as Sun Microsystems, AMD, Oracle and Microsoft also chipped in their names for the program. Collectively, the companies make up what the DMTF is calling the Server Management Working Group.
The basic tenets of the server collective are modeled on a similar push already underway in the storage industry to develop a shared set of interfaces for management software. Where the storage vendors have the Storage Management Initiative Specification (SMI-S), the server vendors will create their own version of CIM.
With any luck, the program will benefit end users in the long run. A management standard would help ensure customers don't get locked in to IBM's On Demand Computing model, HP's Adaptive Enterprise or Sun's N1 technology, for example. Ideally, a shared interface would let various vendors create software that can plug into these larger management lines.
But don't get your hopes up for any quick fix. The server working group won't hold its first meeting until Dec. 17, and their plan to create a version of the CIM specification by July 1 of next year seems rather optimistic.
The vendors, however, do have an idea of where they want to go. The first point of attack will be to create a common Command Line Interface (CLI) for both local and remote hardware management.
"The group will also further evolve CIM to cover the latest server system topologies, such as blades and virtualized server systems," they said in a statement. "Realized through protocols, the specifications will deliver a lightweight, human-oriented CLI that can be mapped to CIM and driven by scripts."
There is little other information on the planned work at this point and time, but we'll keep you posted as things develop - if they develop.
The storage vendors have been plodding along with this idea for quite awhile and are only now starting to come out with a fair amount of SMI-S product. It's hard to say how long it will take the server vendors to come around, but in the long run this step was both inevitable and in the customers' best interests. ®
Sponsored: Becoming a Pragmatic Security Leader