Mixed fortunes for enterprise WLANs
'low priority'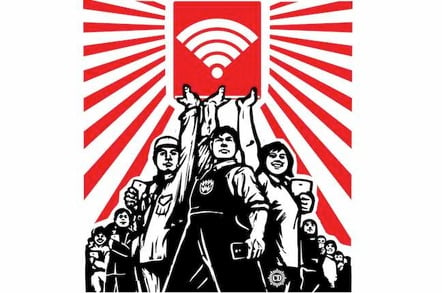 Mixed fortunes for enterprise WLANs, if the latest crop of research results are anything to go by. A survey by investment bank Goldman Sachs found that wireless Lans are now rated 'low priority' for IT spending, according to a panel of 100 CIOs. In the same survey last year, WLANs rated in the top category. The bank says this is mainly because most companies have already adopted Wi-Fi and see further investments, for instance in upgrades, as luxuries.
Systems integration and consulting were the big winners.
On a brighter note, dell'Oro found that the global WLAN market grew by 9 per cent in revenue terms in the third quarter, compared to the second, achieving sales of $457 million. The market for enterprise class access points increased by 25 per cent to $121m, reflecting the start of the upturn in corporate spending on WLANs, and these devices made up over one-quarter of the total sector. Cisco improved on its market lead, increasing its revenue from WLAN by 44 per cent in sequential quarters.
And looking specifically at the US enterprise market, InfoTech predicts that WLAN penetration will reach 80 per cent by 2008, creating a market worth $5.9bn.
InfoTech says that almost half of US businesses currently have WLANs, but 75 per cent of these installations are limited in scale, reaching only 10 per cent or less of the workforce. The researchers believe this pattern will remain until applications that can be used by all staff, and with demonstrable return on investment, become mainstream. They see the key example as being voice over WLAN.
By 2008, business users of mobile networks inside buildings will rise from 14.8m to 30.8m, says the report. So far, this has been held back by the failure of mobile service providers to provide adequate in-building coverage, whether WLAN or cellular, and over half of the companies surveyed were dissatisfied with current indoor services. "The traditional mobile boundaries will continue to blur as wireless business users no longer perceive in-building and out-of-building as separate domains, putting further pressure on providers to achieve ubiquitous coverage," said report author Scott Drobner.
Wireless Watch is published by Rethink Research, a London-based IT publishing and consulting firm. This weekly newsletter delivers in-depth analysis and market research of mobile and wireless for business. Subscription details are here.
Sponsored: Detecting cyber attacks as a small to medium business