HP shells out for SCO road show
Indemnify today, sponsor tomorrow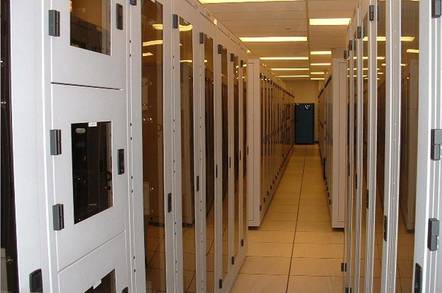 Starting Oct. 7, SCO users throughout the U.S. and Canada will have a chance to express their appreciation for the company's intellectual property defense program in an up-close, personal setting.
The SCO City-to-City Tour kicks off in Toronto on Oct. 7 and then snakes its way through the U.S., ending up in Orlando, Florida on Oct. 29. Users who sign up for the get together will hear "messages, news, and product
information" that are vital to running a successful SCO operation. One of the more compelling sessions will no doubt be the 9:15 am "Company Report Card" in which SCO officials rate their own performance.
For those not paying attention, SCO is the company locked in lawsuits with IBM and Red Hat over ownership rights to bits of code in Linux. SCO wants users to cough up $1,400 per processor to use the Linux OS, while Linux users want the company to return to the rather boring hole from where it came.
The SCO City-to-City Tour is a nice touch to the whole IP affair. It gives the impression that SCO still has a vibrant, diverse user base that is clamoring for the latest details on SCO software. While there are plenty of SCO users out there, the need for a company-backed outreach program is quite slim. That might be why per city registration is capped off at 50 customers. Wouldn't it be funny if ambitious Linux users filled all of those spots?
The main item of note for the tour is really the premier sponsor - HP.
Just last week, HP jumped ahead of IBM and Dell to say that it would protect users from SCO's wrath should they face a court battle over their Linux use. HP will foot the bill for any server and workstation customers that agree to use unmodified versions of Linux and that sign a somewhat restrictive contract.
HP garnered a fair amount of attention for this stance even though it's a bit weak on substance. The HP legal staff must figure that SCO is not likely to win out in court, so why not go ahead and put on the brave act now.
But doesn't it send a bit of a mixed message to take shots at SCO's IP crusade while backing the City-to-City tour? Yes, there are plenty of HP and Compaq customers running SCO software, but taking on the sponsorship makes one wonder how much of a friend to Linux HP really is.
This is also the same problem HP ran into earlier this year at SCO Forum.
Users attending the City-to-City tour are urged to figure out exactly what HP's SCO stance is. We certainly can't tell. ®