Scott McNealy shows his serious side to users
Who beat Network?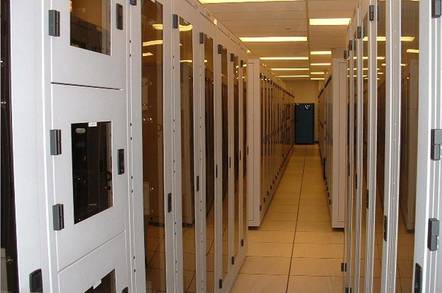 Sun NC03 Scott McNealy has a dog named Network, and we think someone has beaten it.
Sun's CEO put the usual comic routine to the side during his opening keynote at the Sun Network conference here, opting instead for a somber customer pitch. McNealy donned a jacket, propped on a serious scowl and told Sun customers why they should stick with the company for the long haul.
"I even wore socks today," he told El Reg.
It should come as no shocker to see McNealy put the barbs against Microsoft, Dell and IBM to the side for a day. He tends to do one or two "serious" speeches a year. These types of talks usually come when Sun is facing heaps of criticism in the press or when Sun has something quite new to announce.
The Java Enterprise System - aka Orion - fits into the something new category. Sun put the pricing for its entire enterprise stack at $100 per employee. But McNealy didn't even talk much about this.
Instead, the Sun chief kept beating familiar messages. He talked up the need for research and development, the importance of buying systems as opposed to components and the growing world of Java-enabled devices.
Through all of this, McNealy kept the straightforward tack, characterizing his delivery as "somewhat dry." This, however, was not a tired fellow. This was McNealy trying to face up to some very real questions from the Sun user base.
"The strategy is paying off," he said. "The momentum is there despite what you read in the press.
"I love the fact that Unix is constantly considered a dead end environment. For twenty years now, Unix has been the Rodney Dangerfield of the computing industry."
McNealy admits that Sun's undying love of Unix goes against the grain of what most hardware makers are saying these days. He went to great pains to assure the Sun Network audience that he knows Sun often takes the opposite stance of competitors. This isn't some middle-aged delusion taking over McNealy's mind. It's a calculated attack.
At the same time, McNealy also went to great lengths to assure customers that his company is aware of the greater market trends. Sun is shipping Linux, it's shipping x86 systems and has brought Solaris x86 back.
McNealy delivered a serious message to convince customers that it's not totally oblivious to the world around it or unwilling to change. Contrary to what analysts and rivals say, Sun is not falling by the wayside in the hardware market.
"We are going to be here for a long, long time," McNealy said. "This isn't a one inning game. It's a whole season."
It's good to see McNealy taking things seriously because these are serious times for the company. There have been plenty of moments over the past two years when one could ask, "Has McNealy held on to Solaris/Sparc for too long?" or "Can Sun's strategy pay off in the long run?"
We don't think any of these questions have been answered as such. Only time will tell whether or not McNealy is right. But chucking the standup routine to the side every now and again is a good idea, especially if your customer base is edgy.
No matter how bad it gets, however, we don't think Network deserves to be beaten. Carly or Michael should be ashamed of that. ®