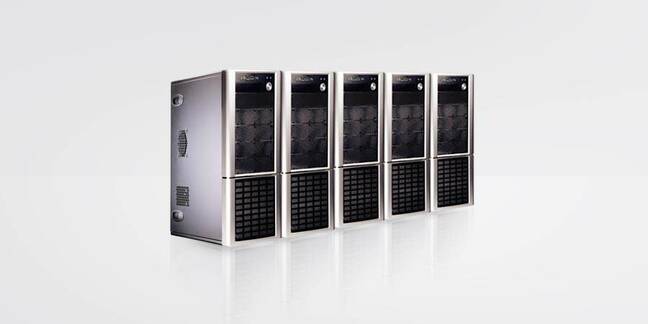 McDATA has revealed its plans for hybrid out-of-band SAN virtualisation, combining programmable intelligent switches with an external control engine.
This separates the control path from the data path, says McDATA senior marketing manager Chris Ilg. Most data then goes straight through the switch at high speed, whereas the appliance approach favoured by the likes of DataCore, FalconStor and IBM requires all traffic to be processed by a Linux or Windows 2000 server along the way.
Ilg says that McDATA's 'fast path' technology will come to market in the second half of 2004 in two forms: a blade to upgrade directors by adding fast pathing to existing Fibre Channel ports, and within a new version of the Sphereon 4500 fabric switch.
Both will feature an ASIC-based acceleration engine within the data path, plus an API that allows software developers to program the intelligent switch via a separate control engine. The control engine loads mapping tables into the switch, for example to mirror or migrate data, and also handles errors and exceptions.
"Once you've set it up, the control server fades into the background. You could lose it and still run, but we'd never recommend that because there is always some interaction when an unrecognised frame comes by," Ilg says.
"Each fast path can support from 20 to 40 ports depending on the application mix, and you can mix and match fast and normal ports in a switch depending on your needs. In a director you would always start with two fast path blades, because they'd be clustered for redundancy."
The hybrid path has already been trodden by a few others, most notably HP in its blend of the ex-Compaq VersaStor technology with the CASA virtualisation device it acquired from Storage Appliance and the Rhapsody switches that it buys in from Brocade.
The difference, says Ilg, is that McDATA's version will be open: the company has no plans to sell control servers or applications, instead relying on third parties for these. He demonstrated a prototype running data migration software from Incipient.
He adds that ultimately there will have to be a standard API for intelligent switches of this kind. "Right now it's not happening but eventually it will be mandatory," he says. "We are in the very early stages of talking about it in the ANSI T11 committee, but it's probably 18-24 months before we even see version 1.
"The standard will have to be driven by the application vendors because software porting is such a lengthy business for them. I think they do have the muscle to do this because many of them are storage vendors themselves - IBM, HDS and EMC all have big plans for software." ®
Related stories
Cisco switch price cuts a bad sign - Analyst
Brocade gets big backing for new software
Brocade feeds analyst dirt on Cisco switch
Sponsored: How to simplify data protection on Amazon Web Services