IBM wins Intel server bragging rights
x440 is the dog's cojones - Giga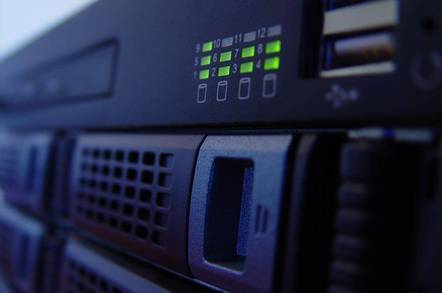 We're indebted to IBM for bringing to our attention the opinions of influential analyst Giga concerning its recently announced x440 Intel Xeon server.
Giga is enamoured with IBM latest Xeon boxen and believes (even though the company is third behind Dell and HP in the four to eight-way segment of the server market) that IBM will continue to gain share over the next year.
At the end of Q2 2002, IBM reported 140 per cent revenue year on year growth in sales of its four to eight-way Intel servers, Giga notes.
Rival vendors duked it out in the summer months with rival benchmarketing claims for their Intel server but Giga found IBM's results were the most impressive.
"IBM now owns performance scalability bragging rights (vs Dell and HP) when comparing the online transaction processing results (TPC-C) of its four-way Xeon MP servers vs its eight-way," the firm wrote in a briefing note to customers.
"Specifically, IBM has maintained an impressive level of application linearity, showing approximately 67 per cent performance improvement going from four-way to eight-way symmetric multiprocessing (SMP) across the same generation of server class."
Last March, IBM announced a TRC-C benchmark of 55,139 tpm-C for its 440 xSeries four-way server. This was followed with a mark of 92.398 tpm-C for IBM's eight-way 440 xSeries, in July. Both these results were recorded with machines featuring 1.6GHz Xeon MP processors.
Following on from these results, IBM announced entry level two-way and four-way x440 servers featuring 2.4GHz Xeon MP processors, which get the thumbs up from Giga for use in small businesses.
Furthermore using 2.4GHz Xeon MP processors outfitted x440 server, IBM achieved the highest four-way Intel processor benchmark so far of 61,168 tpm-C at $5.14 per tpm-C. That's 75 per cent better performance than Dell's Poweredge 6600 or 25 per cent better than HP's ProLiant DL 580-G2, and at 21 per cent better price/performance, Giga notes.
Giga thinks these figures are impressive, not just in themselves, but because they validate the architecture IBM has chosen for the x400 servers, which feature an XA-32 chipset and IBM's scalability port technology.
Despite the glowing report, Giga adds a slight note of caution when it says the performance scalability demonstrated in the transition between four-way and eight-way x440 servers will be tested when IBM introduces a 16-way x440 server, which is expected to arrive in Q4 this year. ®
Related Stories
My dad's server's bigger than yours
IBM says Intel eServers trounce Dell, challenge Sun