Best of the Rest: Harry Potter, Kevin Warwick, Lara Croft
Now that would be an interesting three-some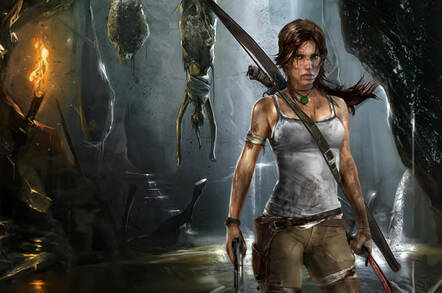 Not having played Tomb raider, either 1 through the 4 I know of, I can safely say I am unbaised. However the article you just wrote suggested because I'm a male, and an Internet user that I should really give a load of horse shit about the size of Lara's breast.
Many a geeks conversation centre around how they edit their own pictures using Adobe products. However, after reading the first 3 paragraphs I found your article completely unstructured, and after completely reading it, I was shocked. Maybe this is a feature article, and attracts attention, but (no-offence) I suppose having a female write on a sexist male issue, was a complete coincidence. Aside from the content of the article, (which probably draws readers) I found very little information concerning the game itself.
With that out of the way, I leave you with a final thought: if these types of articles attract attention amongst the male games, and Internet junkies, with a extremely high percentage of them being male, then you have just offended, and subjected a minority of female Internet browsers, which translates to lesser readers.
Here's the links I saw fit to include because they supported my argument: Victoria's Secret bra measuring service, Click here for smaller tits, 'Magnificent breasts' gets pulled by content security firm, Computer bra boob shuts M&S, Armageddon off with the blood sports bra, Is it a bra or an anti-mugging device
Thank you for your time
Bravo5
[Ed says: ah shut your whingeing. As part of our new punishment programme, you are forbidden to read any stories on The Reg that mention female anatomy for two weeks.]
---

Warner Brothers bullies girl over Harry Potter site


Appreciate the article. It is rather amazing how some companies are ready and willing to alienate their fan base by taking broad interpretations of their rights regarding anything even vaguely associated with their trademarks. My favourite was Kellogg's Corp's claim against musical group called the Toucans. Kellogg claimed it infringed on their character, 'Toucan Sam.' How petty-minded, selfish, and shameless. But then, I suppose I'm preaching to the choir. (sigh) Sing on.
Be well
Karl E. Ziellenbach
---

ShittyGift.com points to online crap merchants


Uhm,
All your talk about ShittyGifts seems to have sparked the sick imagination of a slightly off-balanced (and probably very pissed) Norwegian. Apparently this guy sent off a package of shit to the Norwegian Parliament building where it exploded and made the day kind of crappy for the people working at the post office. More info can be found on:
http://aftenposten.no/english/local/d179448.htm
As usual, The Reg is to blame. One would think that you should have learned this by now -- there do exist people who just read the headlines (and as it seems, there also exists people who just read selected parts of those headlines).
eSk
---

Captain Cyborg spouts rubbish on CNN


I checked out the CNN story on our Kev. He looks familiar. Wasn't he one of the winners of the Monty Python "Upper Class English Twit of the Year Contest"? I haven't heard him speak, so I don't know if he's upper, middle or working class, but he seems to have the Twit part nailed.
Dan Moyer
---
Paxman vs Warwick: Radio 4 special
Hiya Jeremy,
I liked the interview recently with publicity crazed "cyber warrior" Prof Kevin Warwick... I thought you might want a bit more information about him...especially since he's now hosting the Royal Institutes Christmas Lectures this year.
Have a look at this gallery of his achievements:
Home truths: Bionic man takes the Metal Mickey
Kevin Warwick: a life in pictures
And for the latest info look at http://www.kevinwarwickwatch.org.uk a site dedicated to following the media monster.
Later,
Matt
From: Jeremy Paxman
Sent: 12 December 2000
To: 'Matt Haswell'
Subject: RE: Regarding Prof Kevin Warwick.
Thanks. Frightening, isn't it?
---

Iridium threatened rain of terror
Dear sir,
While your recent article on the chances of getting hit by a satellite was interesting, I believe you are misrepresenting the statistics to make the article more sensational.
While it is true that there was a 1 in 250 chance for someone to get hit, you did not clarify that this was not a personal statistic. The odds that any one individual to be hit is 250 multiplied by 6 billion (the population of the planet). Therefore the odds of any one particular person being struck are 1.5 trillion to one - hardly a rain of terror of proportions seen in Armageddon.
Also, in reference to the Lara Croft article, I can't believe that the editors at The Register got through high school without knowing how bra sizes work. Geez.
Thanks for your time,
Perry Newhook