Original URL: http://www.theregister.co.uk/2014/07/14/currys_showcase_hp_slatebook_14_preview_anki_drive_sony_projector_handycam/
Reg hardware hunter spots HP SlateBook 14 Android in the wild
Currys serves up festive fare
Posted in Personal Tech, 14th July 2014 09:59 GMT
Pics July isn't over yet and so it follows, neither is, er, marketing Christmas*. This time Currys/PC World was playing host to this summer PR tech fest that showcases products that'll be in stores leading up to festive season.
Push aside the wrapping paper and ribbons and with any luck you'll spot an early outing of a product or three that have yet to hit the reviews circuit.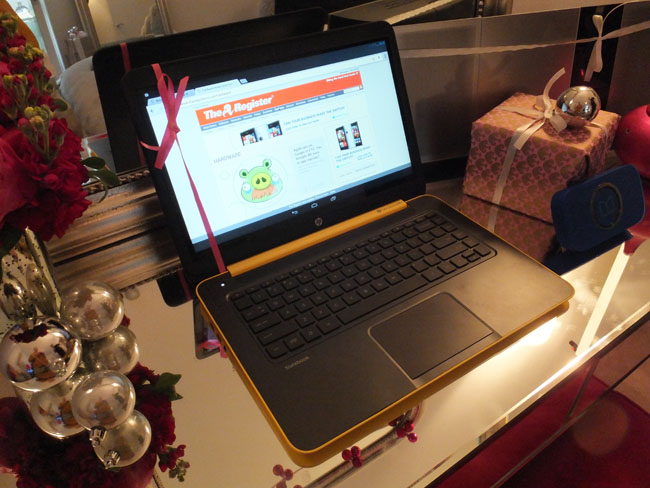 HP's SlateBook 14 gets the festive treatment
In this respect, Currys didn't disappoint with HP's SlateBook 14 lingering in the boudoir zone. This is HP's first Android laptop and features a 14-inch, full HD touchscreen display. It currently runs Jelly Bean Android, which means the touch element is a lot more intuitive than Microsoft's fondlebook approach with Windows 8.

A microSD card slot for storage expansion
Running the show is an Nvidia Tegra 4, quad-core ARM processor with 2GB of RAM and 32GB SSD although the chap from Curry's said it was a 64GB SSD, which is an option, so whether this is the configuration it intends to sell will no doubt impact on price, which is currently showing as £329 for the 32GB model on HP's site.
Dressed up in yellow and black, the SlateBook 14 is quite distinct from HP's coloured Chromebook 14 range and there are a number some styling differences beyond CPU and RAM. For a start, the SlateBook sports Beats Audio, but will those days be numbered given that Apple is the audio kit firm's new owner?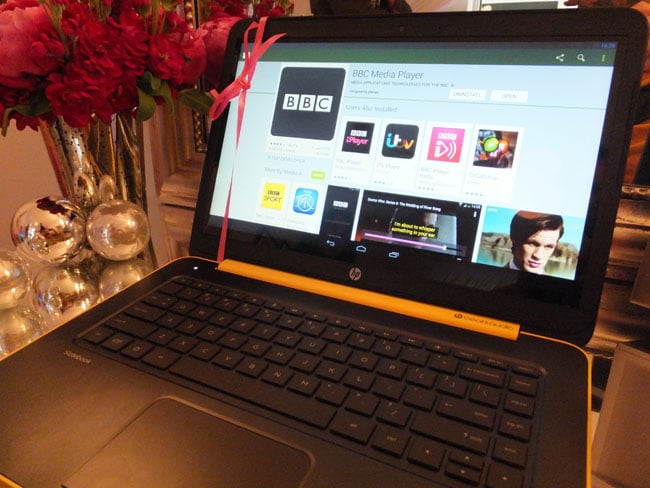 Radio streaming suggested those Beats Audio speakers weren't that special, just loud
I listened to BBC 6 Music streaming on the SlateBook 14 to get an idea of the sound, but really, it's just a case just low-fi laptop speakers again, even if there are four of them, which probably explains why the output could, at least, get rather loud. The only sound enhancement in the Android settings was supplied by DTS, so where the Beats Audio tech tweaks linger, I'm not so sure.
The keys on the chiclet keyboard were a tad smaller than most laptops I've seen of late, but both the spacing and feel was good and typing on Kingsoft Office was easy enough with few mistakes. There are two USB 2.0 ports and one USB 3.0, HDMI, a mic/headphone combo jack socket and a microSD card slot. The 3-cell 32WHr battery is supposed to be good for nine hours and the Curry's chap had been using it on and off all day reckoned that was about right.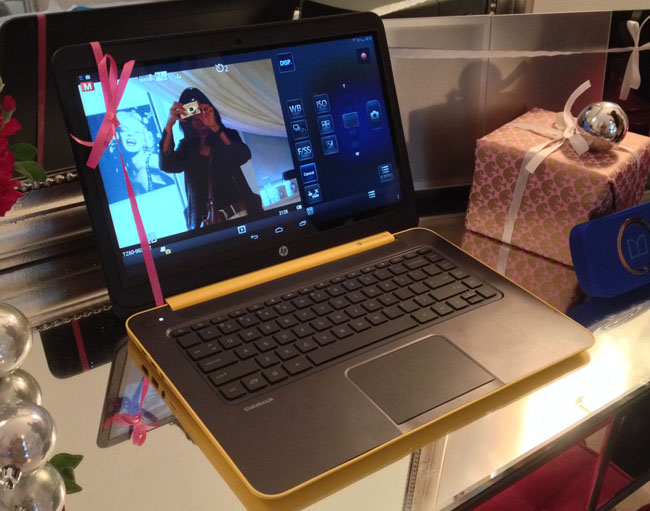 Android app simplifies linking to a remote camera snapping another camera user
He was more keen to show off the app side of things, with a Panasonic Lumix TZ-60 linked up to the SlateBook 14 with a Wi-Fi direct connection, enabling remote control of the camera from the laptop touchscreen. It's not exactly new, but the point was to illustrate how apps simplify these tasks in a way you don't typically experience on a conventional laptop OS.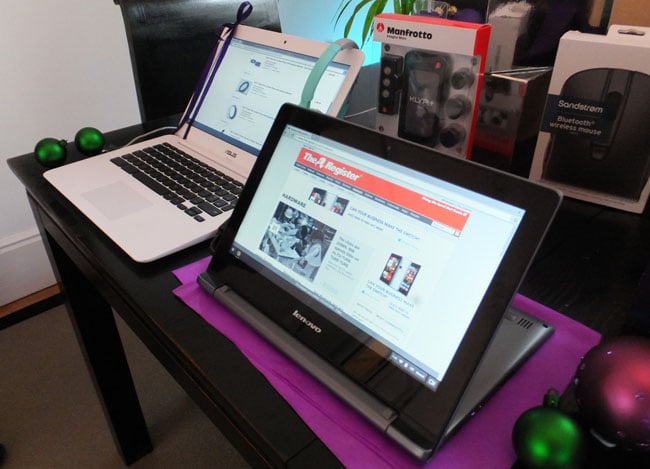 Lenovo's N20p bendy touchscreen Chromebook alongside the Asus C300m Chromebook
Also on show was Lenovo's N20p Chromebook, which grabs features from the company's Yoga range. However, it can't completely fold over back to back to take on tablet form. Instead, it can flip round, presentation-style, up to 300 degrees. As appearances go, it's arguably the most business-like Chromebook you'll find and features an 11.6-inch 1366x 768-pixel touchscreen, up to 4GB of RAM and a 16GB SSD. In keeping with all the latest Chromebooks, an Intel Celeron CPU runs the show.
* Marketing Christmas takes place in July ... to help editorial teams putting together Xmas specials to plan their content.
The big picture
If a laptop display doesn't appeal for photography, how about a projector? How about both? Sony's full HD HDR-PJ330E Handycam has a DLP projector built into the back of the flip out LCD monitor.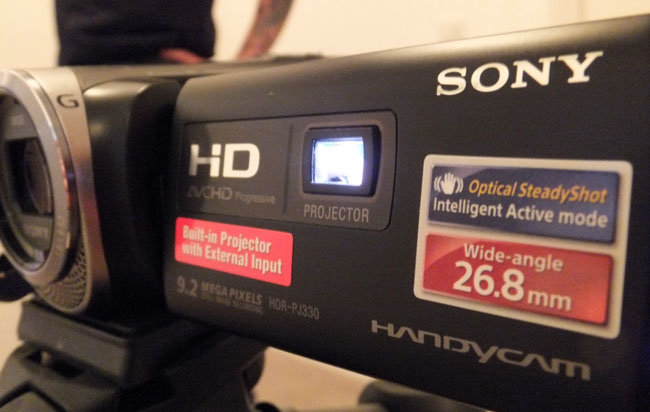 Sony HDR-PJ330E Handycam might keep the kids quiet on holiday
The 640x480 image resolution and 13 lumens output isn't going to threaten your local IMAX but it could be enough to keep the kids quiet when holidaying, especially as you can load it up with SD cards to play MP4 movies and stills. The camera itself can record in AVCHD or MPEG4/H.264 formats.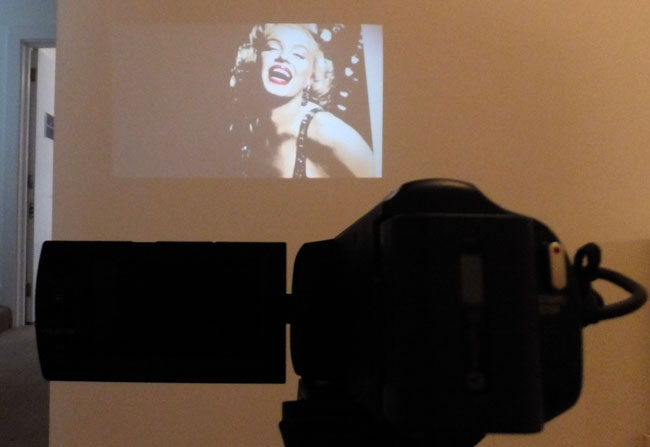 Keep it dark: with only 13 lumens you'll need to minimise ambient light
If it's the big picture you're after, then it doesn't get much more refined than LG's 77-inch bendy OLED TV which took pride of place among the Yuletide frippery. We covered the launch of this telly fairly recently, but this time round, I noticed just how much heat was radiating from that screen itself.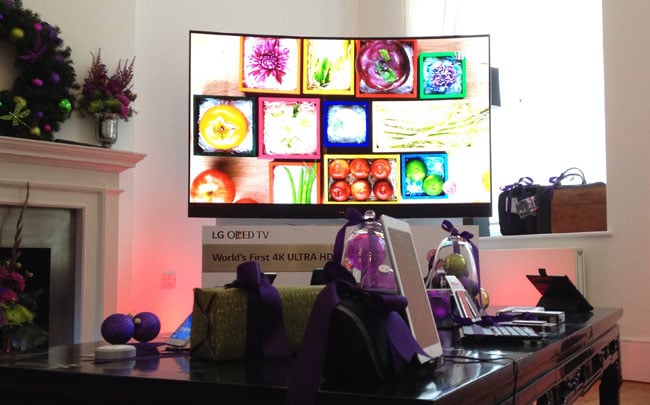 4K at £20K: LG's 77EC980V OLED 77-inch TV
It makes you wonder what the energy bills are going to be like with this beastie blasting away in the living room. Perhaps it could be considered a bonus... except in summer. Even so, with a price tag of £20,000 I doubt few potential buyers would be concerned about the trivial matter of power consumption.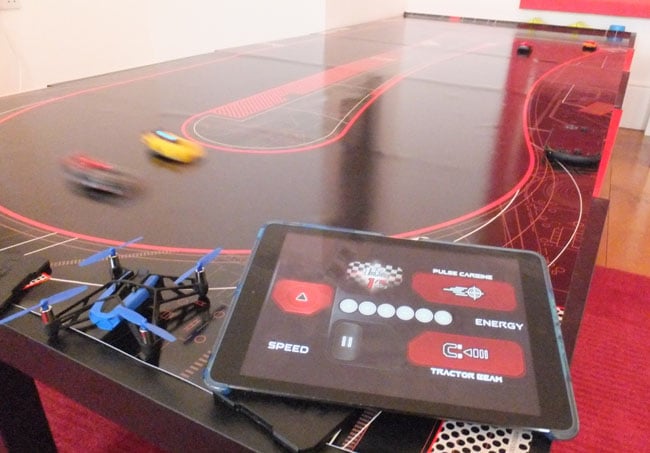 Anki Drive Starter kit has a basic track and two cars
You could have a lot of fun with £20K but it's fair to say that most of Curry's Christmas customers will be looking for more modest thrills and spills in their living rooms. Given that the world and its dog can lay their hands on an iOS device these days, splashing out £180 for the Anki Drive race track and a couple of cars – all controlled by an iPad, iPhone or iPod Touch – seems like a more modest outlay for some armchair entertainment.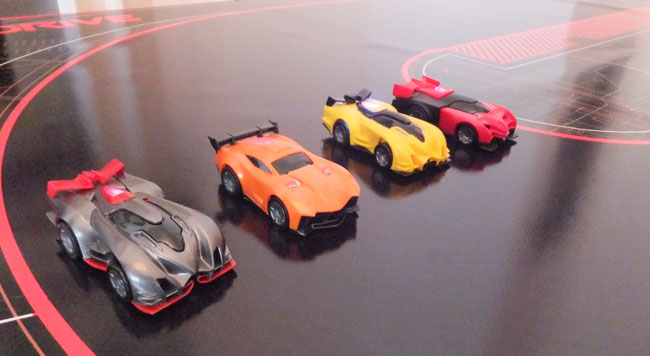 Extra cars are £50 apiece – less than a tank of petrol though
This car racing track has been available in the US for a while but has only recently made it to the UK. You can battle it out with a mate or an AI-enabled foe. These these cars aren't just built for speed: you can fire at each other or use a tractor beam too. OK, so nothing actually shoots out of the vehicles, just a bit of noise and some flashing lights, but you can disable a car on the track temporarily and go on to victory, using your iOS device to control speed, weaponry and nifty steering.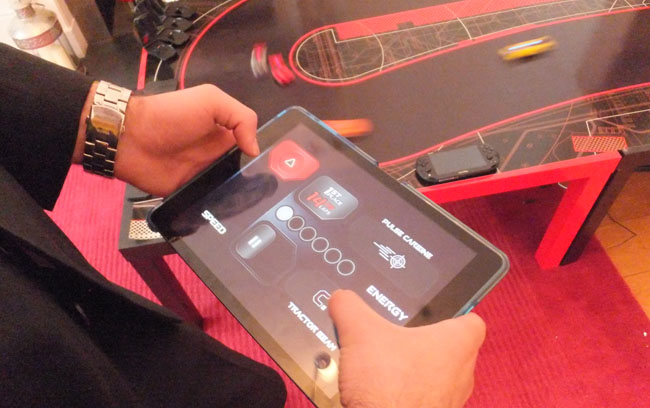 Three against one – OMG! Engage the tractor beam
You don't have to use the remote wireless control to steer the cars much at all as they'll whizz round the track aided by built-in sensors and AI software – up close, the track has a patterned surface that tells the car exactly where it is on the circuit.
If you do have a serious crash, help is at hand. iFixit has pulled the cars apart to see what makes them tick and found a basic ARM chip in there.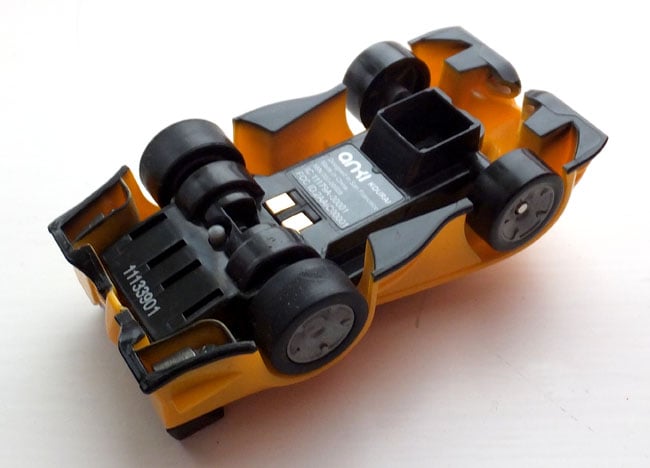 Impressive tech that takes driving games away from the screen and onto the track
The track route is very basic but there are Crossroads and Bottleneck layouts available and extra cars too. The latter cost £50 each and you can have up to four cars on the track. The downside is the battery life. The bods from Currys reckoned they lasted 30 mins, although the Anki site says 20 mins with 10mins to charge, so if family and friends are slaves to instant gratification, maybe an extra car or two isn't such a bad idea to keep things on track. ®