Original URL: https://www.theregister.co.uk/2014/06/30/review_intel_devils_canyon_cpu/
Overclocking to 5GHz? We put Intel Devil's Canyon CPU to the test
Haswell refresh that's hot to trot
Posted in Personal Tech, 30th June 2014 12:02 GMT
Review It seems as if we waited an age for the latest unlocked "K" versions of the upgraded 22nm Haswell CPUs, but at long last they are here in the form of the Devil's Canyon processors.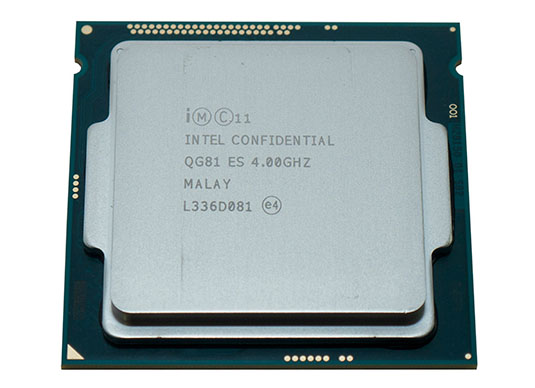 Intel's Devil's Canyon has some fancy artwork to go with it, but the chip looks like a chip
Currently, at the time of writing, there are just two SKUs of the new processors, the 3.5GHz Core i5-4690K and the flagship 4GHz Core i7-4790K, which, as luck would have it, is the one I'll be looking at shortly.
The new CPUs are compatible with the recently rolled out 9 series Z97 motherboards. If you have an 8 series mobo you might still be in luck, as long as it has been engineered to handle the higher power demands of the Devil's Canyon CPUs and if there is an update for the BIOS.

Two faster CPUs for the same price as the predecessors
Perhaps the most impressive thing about the Devil's Canyon CPU is the speed it took the boffins at Intel to produce an actual working product from the original idea – a mere six months. For the processor business, this is lightning fast, especially considering one of the major factors Intel had to sort out was the temperature increase of the original Haswell parts when running at high speed.
To combat things getting too toasty, Intel has developed a new TIM (thermal interface material) that it is calling NGPTM, which is a whole lot less of a mouthful than its full Next Generation Polymer Thermal Interface Material moniker. Intel claims the new material enables improved processor cooling while still using current cooling solutions.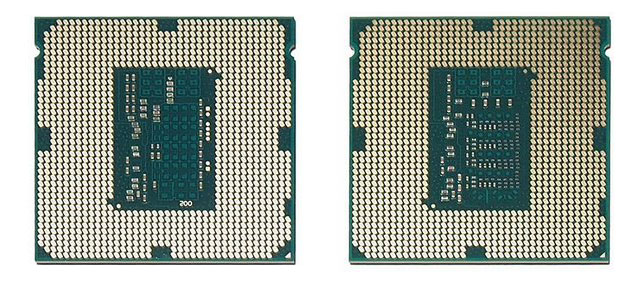 Flagships old and new: Core i7-4770K (left) and Core i7-4790K (right) with extra capacitors for power delivery
In addition to the new TIM, the power delivery to Devil's Canyon CPUs has been improved, and while the front of the CPUs look like any old Haswell part, turning them over reveals the extra capacitors used to provide this smoother power delivery to the core(s).
The poster boy of the two new processors is the i7-4790K, a four-core, eight thread monster with a 4GHz base clock on all four cores – the first Intel CPU to do so – and has a Turbo of speed of 4.4GHz. That's a hefty chunk faster than its 3.5GHz Core i7-4770K predecessor, which only reached a Turbo speed of 3.9GHz, as standard. As with the previous unlocked flagship i7-4770K, the i7-4790K has 8MB of L3 cache and uses the HD4600 version of Intel's integrated graphics running at 1250MHz.

Cinebench R15 CPU Test
Performance
When the i7-4790K was launched, Intel was heard claiming that an overclocked 5GHz was possible on air cooling. Well you might be lucky and find the golden ticket chip that does, but like so many others that have tried for that magic number and fell short, the chip I received only just managed 4.8GHz but even that wasn't stable enough to be deemed a success. The fastest speed I could get my example to run without it fighting back with BSODs was 4.7GHz.
The heat is on
For testing I used the same setup as I used when recently tested Asus's Z97-A motherboard: 4GB Patriot Viper Extreme DDR-3 2133MHz memory, Zotac GTX760 Amp graphics card, Crucial M550 512GB SSD and a Noctua NH-U9B air cooler – so not an extreme setup by any means.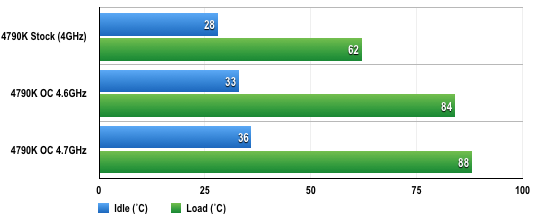 Benchmark temperature variations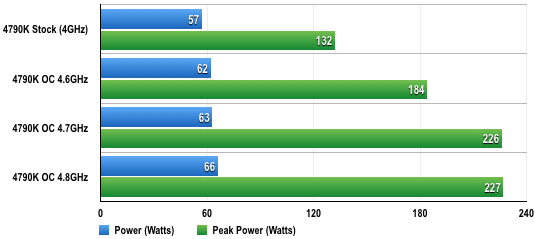 Power consumption – measured at wall socket
Using Prime95, I ran the CPU for 30 mins at Idle and then 30 mins at 100 per cent load. First I tried an overclock with the Asus EZ app in the Z97-A's BIOS, which raised the memory from 2133 to 2175.8MHz and the CPU to 4.08GHz (BLK 102MHz, 1.104v) – a very modest increase. Time to get the hands dirty in the BIOS.
With a 1.375v voltage tweak, I managed to get the sample to run stably at 4.7GHz. At 4.8GHz, it would boot into Windows and run Cinebench R15, but when it came to running Prime95 it would only manage a few minutes before causing a BSOD, not exactly what you would call stable.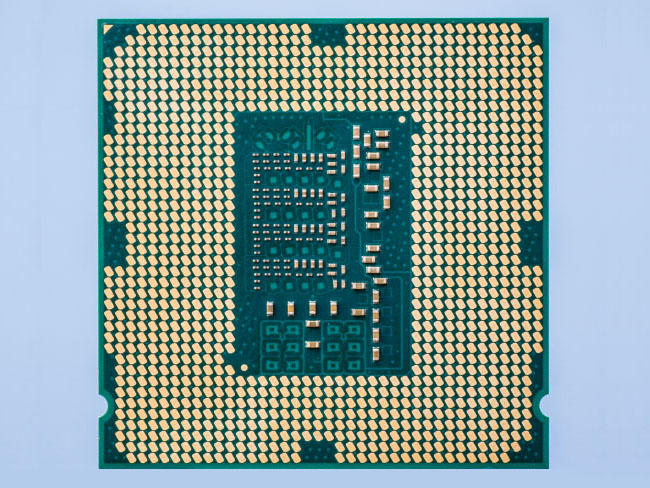 Devil's Canyon: Extreme overclocking potential – your mileage may vary
The Reg Verdict
With a 4GHz base clock on all the cores, Intel's i7-4790K is without doubt a powerful CPU, regardless of whether you're interested in the overclocking aspects of the "K" series chips. As for overclocking, well my early sample couldn't manage Intel's claims of 5GHz on air cooling and a scout around the web shows I'm not alone. It may be a different story for retail samples and with liquid cooling it might be easier to achieve.
On the plus side, the new processor is pretty close in pricing to the previous i7-4770K, which only reaches 3.9GHz in Turbo mode, so if you are planning to build a fast system out of the box, then choosing the i7-4790K is pretty much a no-brainer. ®