Original URL: https://www.theregister.co.uk/2014/06/30/qlogic_chairman_hk_desai_dies_aged_68/
QLogic exec chairman HK Desai dies aged 68
Storage chief passes away after 19 years at the top
Posted in The Channel, 30th June 2014 16:01 GMT
Storage firm QLogic has lost its guiding light. The company's chairman, HK Desai, died after suffering a "sudden cardiac arrest" on 10 June.
CEO and president Prasad Rampalli, who became CEO just six months ago, said: "HK dedicated most of his working life to building QLogic into the company it is today. His positive spirit, enthusiasm and commitment will be greatly missed by all of us who had the honor of working with HK."
Desai joined QLogic as its interim CEO, CTO and president in 1995, becoming chairman as well in 1999, moving sideways to the exec chairman role in 2010. Simon Biddiscombe, then CFO, became the CEO in November that year.
QLogic, together with Emulex, has dominated the Fibre Channel HBA (Host Bus Adapter) market. The company has tried other product technologies, such as Fibre Channel switches and InfiniBand, but none of these have been as successful as the HBAs.
Under Biddiscombe, QLogic developed its Mount Rainier technology, the addition of flash caches to its HBAs. He resigned in May 2013 after QLogic posted two years of poor financial results and, it is thought, the costs of developing the Rainier tech.
Since taking the helm Rampalli has had QLogic buy some Broadcom Ethernet assets. Previously, in January, QLogic had bought Brocade's Ethernet and Fibre Channel business on the basis that Brocade was never anything other than a support act, so to speak, to Emulex and QLogic in the HBA market.
Under Desai's executive chairmanship QLogic maintained, more or less, parity with Emulex as an HBA supplier and resisted the threat from Fibre Channel over Ethernet (FCoE) by developing Converged Network Adapters (CNAs) providing both Ethernet and Fibre Channel and FCoE connectivity to block storage access arrays.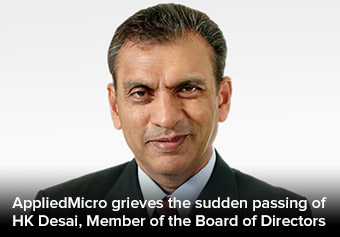 HK Desai.
But Desai was not able to see the fruits of the Mount Rainier technology, the latest of several QLogic expansion/escape strategies beyond the maturing Fibre Channel HBA market. Rampalli has to deal with the latest threats to the enterprise data centre HBA business: cloud storage and virtual SANs, with which shared storage is constructed by aggregating connected servers' own storage. No need for HBAs there.
With Desai's passing, QLogic has has appointed board member George Wells as its new chairman. John Dickson, currently a director at Avago and KLA-Tencor, has joined the board to fill the vacancy left by Desai. The firm's senior veep for worldwide sales, Robert Crawford, resigned on 20 June "to pursue other interests" as QLogic's latest SEC filing put it.
Desai was also a director of Applied Micro Circuits, which works in the computing and connectivity area for "next-generation cloud infrastructure and data centres".
"HK was well respected by those who knew him at QLogic, at customers and in the investment community," said Rampalli. "While HK was extraordinarily passionate about his work, his greatest pride was his family and our thoughts are with them at this time. We will miss HK dearly."
The Desai era at QLogic is now over. Rampalli has no executive chairman guiding him and is his own man to that extent. It will be interesting to see how the firm develops from here. ®