Original URL: https://www.theregister.co.uk/2014/06/26/google_promises_android_wrist_car_living_room_and_beyond/
I/O NOOOOO!!! We sat through Google's bum numbing 3-hour keynote so you didn't have to
Lick of paint for Android, car control and more
Posted in Software, 26th June 2014 00:22 GMT
Google I/O Google has kicked off its annual developer conference with a three-hour keynote in which the search kingpin explained where it's taking Android next: namely, your wrist, your car, your living room, and beyond.
It was long enough to trouble your correspondent's laptop battery.
Sundar Pichai, Google's head of Android division, demoed the new build of the operating system – officially referred to as the L release but expected to be codenamed Lollipop – in front of 6,000 developers (and a couple of protestors) in San Francisco this morning. The developer preview released today includes more than 5,000 new APIs, including a new set of Gmail interfaces, we're told.
New user interface on Android
The most visible change in the new version of the operating system is what Googlers are calling Material Design. In practice it's a revved up user interface with shadowing for icons to make them appear to hover over the page; brighter colors; 3D viewing support; and 60 FPS animations onscreen.
Automatically unlock a phone in a known environment
The new build will also include new security settings that can remotely wipe stolen Android handsets, and Google also demoed an automatic unlock feature that's triggered when a handset detects a Wi-Fi network associated with the user, a recognized voice-print, or an authorized Bluetooth watch – such as the one worn by Google director of engineering Dave Burke.
Performance ramp
Android's performance is also being built up, with a new virtual machine called ART replacing Dalvik. ART will run processes on ARM, x86, and MIPS processors, and Google claimed it is twice as fast as its predecessor. Developers will not have to rewrite code to see the benefit.
Graphics are also being improved with the Android Extension Pack. Google has been working with graphics chipset companies to allocate specific memory for graphics, including tessellation, geometry shaders, and ASTC texture compression.
Google wants battery life to be improved and so has been working on Project Volta for Android in the new build. This aims to make functions more efficient with a battery-saving mode, and provides developers with a real-time map of how applications are using power at any given time so they can be optimized for more efficient running.
You'll be left Chrome alone
Chrome too is getting a makeover, with deeper integration with applications installed on handsets. Google showed off search results for restaurants that flagged up a review from OpenTable which could be clicked to launch the app automatically, and Google+ will be used to sign the user in.
Moving beyond smartphones in the West – yes, its smartwatches
Android is today running on one billion handsets, Pichai claimed, and users send 20 billion texts every day using the operating system and 93 million selfies, including a lot of duckfaces, he joked. But the challenge was to get it onto the next five billion users, he said.
To that end, Google is starting the Android One program with the aim of getting low-cost smartphones into the developing world. This includes a set of reference designs and partnerships with manufacturers, and he showed off a handset from Indian builder Micromax with a 4.5-inch screen, dual-SIM capability, microSD card slot, and an FM radio that retails for under $100.
Google also wants Android to be a leading player in the fad for smartwatches. Almost all the presenters at the keynote were wearing a smartwatch, and from today the Play store will be selling LG's G and Samsung's Gear Live smartwatches, with a Motorola unit coming out in the summer.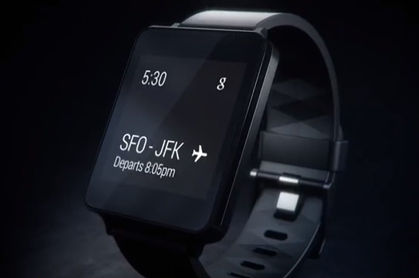 LG G smartwatch ... subtle computer on your wrist
These and other manufacturers will be running a custom build of the operating system dubbed Android Wear which links up with the user's smartphone and allow functions to be controlled either by voice or gesture control. People check their Android phones 125 times a day, allegedly, and the smartwatch is designed to cut that number down with a wristwatch that will act as a proxy.
Fun fun fun on the Auto plan
There's also a new version of the operating system, dubbed Android Auto, which is designed to link a smartphone to your car's dashboard. Once plugged in, the car can then play your music, give turn-by-turn directions using Google maps and conduct voice searches – all without removing the driver's hands from the wheel.
Over 25 per cent of automobile accidents are caused by people fumbling with gadgets, the audience was told, and Android Auto will cut this number, Google claimed. The firm said that "40" car companies had signed up to use the software, and 25 models would be available running the operating system.
Google also wants to get into the living room and showed off Android TV, which it said will ship on Sony, Sharp and Philips TVs next year. The system works with Google's Chromecast dongle to access the phone's games and media, and display it all on the big screen.
When you're not watching telly, the system can also turn the TV into a digital picture frame, showing photos stored on Google Drive or from the web in a continuously changing background mode.
The new Android build is also being designed to work with Google's Chrome OS. Smartphones can be configured to recognize a Chromebook and display notification messages on the screen, as well as access the laptop's APIs and move data between devices.
Despite this integration, Android and Chrome OS look to continue as separate entities for the time being. But with the new push to get Android everywhere it's likely that we'll see closer integration between the two operating systems in the future. ®