Original URL: https://www.theregister.co.uk/2014/06/24/yahoo_aviate/
Yahoo! Bids! To! Own! Your! Smartmobe! Home! Screen!
Need to wake up for a big meeting with an important client? Aviate's got your back
Posted in Software, 24th June 2014 06:36 GMT
Yahoo! is continuing its search for relevance, launching an Android environment that would let the ad-farmer run your smartphone's home screen.
Pitched as a convenience thing, the app, called Aviate, was debuted in this Tumblr post.
Product manager Mark Daiss writes that the aim of Aviate is to make "your phone smarter by offering intelligent information throughout your day. Whether you're on the go, at work, at a restaurant or just relaxing at home, Aviate automatically shows you apps and information that are useful to you based on what you're up to."
The premise powering Aviate is that it'll put whatever it thinks you need right now a click away from the home screen: if you're travelling, you'll have a quick click to maps with commute times; if you're at work, it would present single-click access to conference calls without having to go through the "enter your conference code followed by the hash key" routine (presumably because the call's details are in the calendar).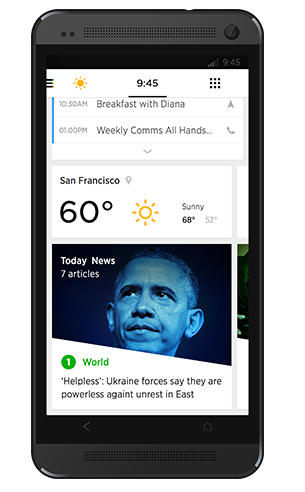 And of course, there will be angles for advertisers (given somewhat less prominence): "Heading out to dinner with friends? Aviate makes it simple to call an Uber to get there."
It'll throw in single-swipe access to "daily habits" (alarm clocks, news feeds, weather), and Aviate will automatically construct favourite lists out of users' contacts.
Aviate runs on Android 4.0, and is currently only available in English. Yahoo! promises that although it dramatically alters users' homescreens, it will "feel like home in no time".
Aviate is at Google Play, here. It's free, which of course means you're the product.
Only the unkind would wonder if Marissa Mayer was let down by Aviate when she overslept before a meeting with advertising company Interpublic Group, as claimed by the Wall Street Journal. ®