Original URL: https://www.theregister.co.uk/2014/06/19/product_round_up_festival_tech_gadgets/
Top 10 tech essentials for the festival season
Gadgets for Glasto and other grubby gatherings
Posted in Personal Tech, 19th June 2014 09:11 GMT
Product round-up According to the calendar, Summer is icumen in, which means it's time to stand in a muddy field and listen to the sonic outpourings of the latest beat combos. Personally, (Live Aid and Stevie Nicks at Red Rocks being two exceptions) I've yet to see an outdoor concert that held a Zippo to a good indoor event but they seem to be getting increasingly popular so who am I to play the curmudgeon?
Of course these days we all want to go to Glasto with our tech, such being the curse of the increasingly connected world in which we live. So here's a quick roundup of some essential - and not so essential but still pretty cool - techie gadgets for the festival season to take your mind off the fact that you are standing in a muddy field that looks, feels and smells (and often sounds) like a recreation of the Battle of Passchendaele and that you've paid an arm and a leg for the privilege.
BioLite CampStove and gadget charger

OK, so this isn't the cheapest, most efficient or fastest way of brewing up at a festival campsite, as you first need some useable biomass – that's dry kindling and twigs to the rest of us and you can use charcoal at a push. Even if it does take a good five minutes to boil a litre of water, it is still pretty funky and involves no faffing around with kerosene or gas canisters.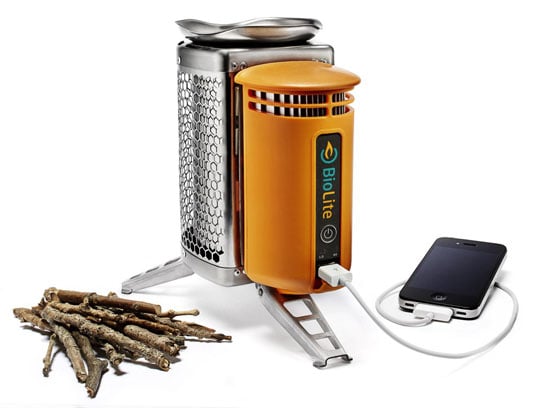 The clever bit is the power pack that clips to the side of the stove. It houses a battery that drives a small fan at the bottom of the burn chamber to improve combustion when just lit. Once everything is warmed up nicely the fan idles down and a small generator puts juice back into the battery and lets you syphon off power through a USB port. At just under 1kg, it's a little heavy for backpacking but it ticks the tech and romance boxes and is very well made. There is a slight whiff of more money than sense about this thing, but I still want one.
EE Osprey 4G Wi-Fi hotspot

Colourful and semi-rugged EE's Osprey is a battery powered 4G WiFi hotspot which lets you get online with your tablet or laptop without having to depend on the festival organisers piss-poor and, doubtless, over-taxed WiFi network. The Osprey can support up to ten devices at any given moment and has a battery that should last for about six hours of continuous use. Like all modern 'MiFi' devices setup and use is as easy as falling off the muddy duckboards leading to the face painting tent.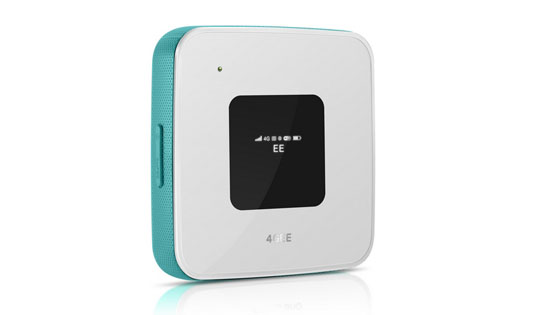 Being an EE device you will be hooked up to the largest 4G network in the land. That said, you'll still need to check that you get coverage at the festival site. At Glastonbury you'll be flat out of luck but you should be OK at Reading while Bramham Park in Leeds is a bit of a grey area. Fifty notes (sixty if you include the mandatory £10 for a 2GB top-up) on PAYG is a bit steep if you ask me but it's a device you will probably get a lot of subsequent use out of.
Price
£50 on PAYG
More info
EE
GoPro Hero3+ Black Edition action camera

You can record your festival hijinks with your smartphone but for that truly immersive and hands-free "I was there" feeling, you can't beat bolting one of these bad boys to your noggin. Luckily, it only weighs 74g so you might forget its there and moments lost to heavy duty hedonism can be restored to an addled memory.
The Hero3+ can record video at various resolutions including 4K at 15fps and 4K 'Cinema' (with a 1.9:1 aspect resolution of 4,096 x 2,160) at 12fps. Then there are 2.7K and 2.7K Cinema options at 30fps, 1440p at up to 48fps and 1080p at up to 60fps as well as 12Mp stills.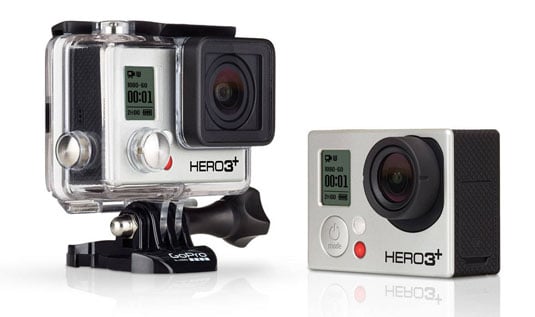 The Hero3+ also comes with built-in Wi-Fi, is waterproof to 40m and has something called wide angle SuperView – to get that stadium atmos – and Auto Low Light so you can keep recording when the sun goes down. There's also a clever wind noise reduction tech built-in so the sound level won't take a stage dive if a gale starts to blow.
Arguably, the GoPro is overkill for just concert going, and the battery life isn't stellar either, 2 hours at best, but it is the best activity camera on the market and consequently, it's not what you'd call cheap.
Price
£319
More info
GoPro
Mpowerd Luci inflatable solar-powered lantern

If you've ever tried to skin up in a dark tent or tripped over a tired and emotional member of the crowd en route to the toilet for a late night pee, you'll know the value of a good lantern. Luci's take on the theme is solar powered, inflatable, water proof and it actually works too.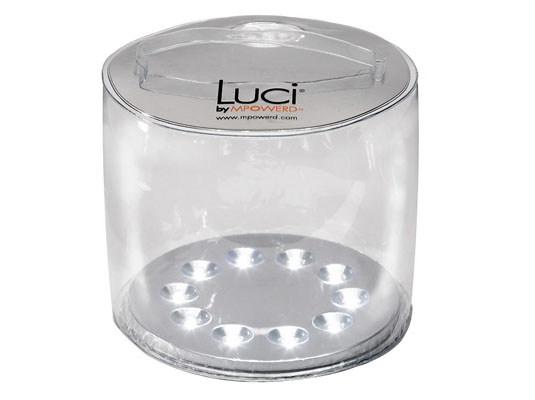 The ten LED lights in the base chuck out 65 lumens for a couple of hours though you can dial down the brightness and eke that out to nearly eight. In even half-arsed British sunlight, it takes a similar amount of time - 8 hours - to fully recharge. Easily bright enough to read by, the clever bit is that it compresses flat for transport. To use it you just blow it up like a beach ball and switch it on.
Nomad Charge Key

Since most of us now carry a smartphone around with us, it pays dividends to always have some way of connecting it to a USB port about your person 24/7. New to this genre are Nomad's Charge Key and Charge Card devices. Both are part made of rubber and while former is designed to hang off your keyring, the latter sits in your wallet – it's a wee bit thicker than a credit card but not by much. Both are available with either Lightning or micro USB connectors.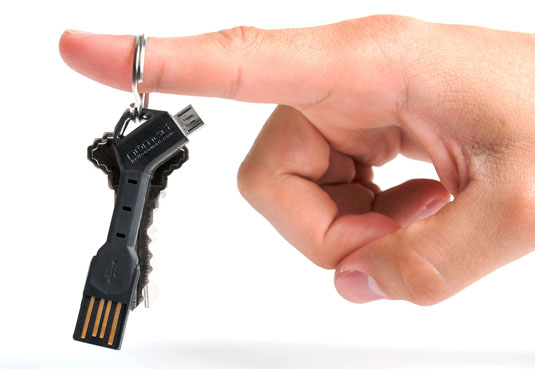 I actually own the Key variant, as I'm seldom without my car keys and can testify to how useful and, more importantly, robust it is. Since I've had it I've given up worrying about carrying or losing my USB cables and on a number of occasions I've whipped it out in triumph to juice up my Moto G or copy some files onto it from someone else's laptop. Strongly recommended for any smartphone owner even if you never set foot at a outdoor concert.
Price
£20
More info
Nomad
Proporta BeachBuoy waterproof case

Available in various sizes – small (for smartphones), medium (for eReaders and 7in tablets) and large (for iPads and 10-inchers) – Proporta's BeachBuoy range is the perfect way to keep your tech out of the mud, blood and beer and the grubby mits of the larcenous. Guaranteed waterproof to 5 metres, the BeachBuoy range is BSI IP57 and IP58 certificated. It features a robust lanyard that you can slip over your head to prevent accidental loss or snatching. To keep your £500 flagship smartphone safe, sound and dry, the £15 asking price seems like peanuts.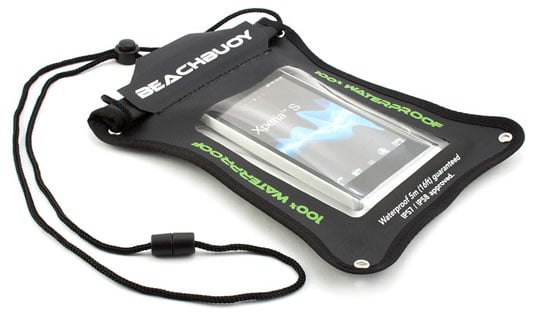 The clever closure mechanism which comprises two click seals and a velcro cover is surprisingly simple and quick to use, so you can whip your phone out in a trice to take a call or that killer festival selfie with your mates. Whether gigging, walking or camping, I seldom leave home without mine and would suggest getting the medium sized version which I find easily holds both my phone and my wallet.
Robot Head portable power charger

Although the Robot Head is based on a Japanese manga cardboard robot character known as Danbo, it's thankfully not actually made of cardboard but plastic. In fact it's a sturdy little external battery that packs 6000mAh of 'leccy behind its cute face. If you press the mouth the eyes light up to indicate battery charge levels (red = under 33 per cent, orange = 33-66 per cent, yellow = 67-100 per cent) which is marginally more interesting than the usual row of LEDs that most power packs make do with.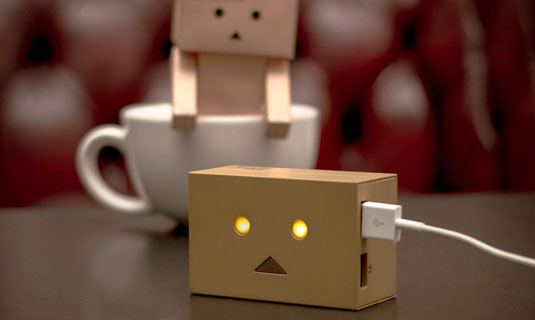 At 34 x 48 x 74mm, it's small enough to fit in your pocket and you'll hardly notice its 140g weight in your festival gear bag. Usefully, it has two USB ports which can charge two devices simultaneously. One port is rated at 5V and 1A, which should suit most phones, while the other is rated at 5V and 2.1A which should be enough to get some charge into a tablet. Sure there are cheaper alternatives, but none more cute, which probably explains why it's the best selling portable charger in Japan.
SanDisk Connect Wireless flash drive

A supremely pocketable little wireless flash drive, the Connect works by creating its own 802.11n WiFi network so you can connect your Android and iOS devices to it. Up to eight devices can be connected but only three simultaneous streams (rather than downloads) can be supported.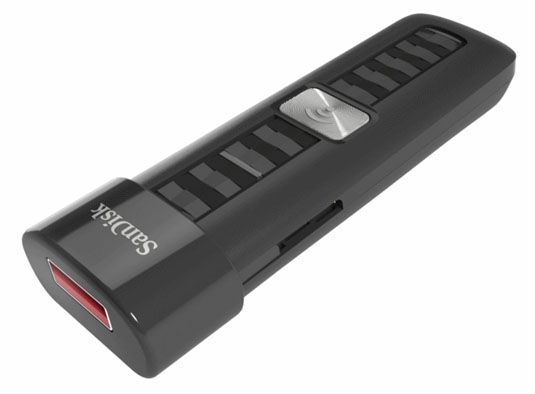 To stream media you have to download the SanDisk Wireless Flash Drive app from the Google Play Store, the Apple App Store or the Amazon Appstore before you hook up your device to the Connect's WiFi network but that's no hardship. SanDisk reckons a fully charged Connect will stream media for around 4 hours which seems reasonable and thanks to WPA2 security you can password-restrict who can access your files.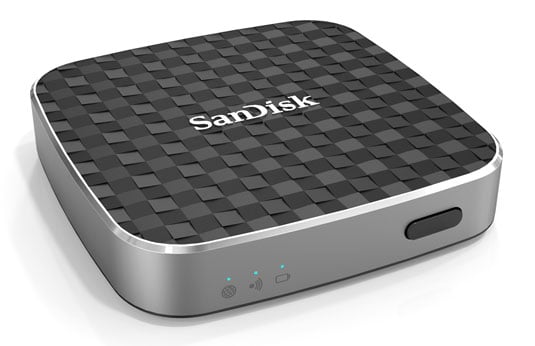 If you fancy an SD card slot, then SanDisk's Connect Wireless Media Drive is a neat alternative and can stream to eight devices and has an 8-hour battery life. Arguably not so pocketable but at £80, the 64GB version works out cheaper than the Connect Wireless flash drive. You pays yer money...
Price
£40 (16GB), £50 (32GB) £90 (64GB)
More info
SanDisk
SolarGoPack 12k solar-powered backpack

A friend of mine owns one of these and swears by it. Essentially, it's a conventional medium sized (27ltr) daypack with a detachable 5-watt solar panel and a removable 12,000mAh Li-ion battery. Yet the great thing about it is that using it requires no conscious effort to keep topped up, so long as you are actually out and about in daylight with it.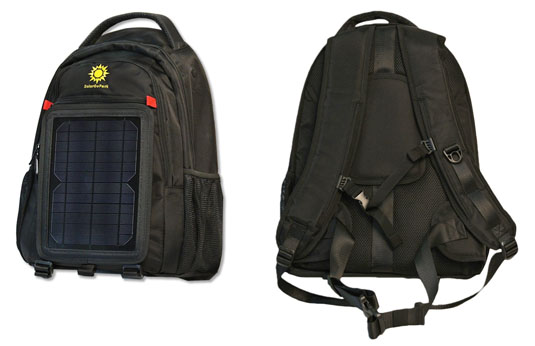 The manufacturer reckons that the solar panel can fully recharge the battery in just over three hours assuming it's bathed in some quality sunlight. As a backpack, the SolarGo works just fine. It's well made from robust ballistic nylon, near waterproof, has handy external phone and bottle pockets, a padded laptop sleeve and numerous internal pockets. It's comfortable to wear too and comes with a sternum strap. The electrical gubbins does add a couple of hundred grams to the overall weight but it's nothing you would notice in everyday use. You can also power up multiple gadgets on the trot.
Ultimate Ears Boom

The ideal portable Bluetooth speaker should be small, easy to use, cheap to buy, waterproof (or at least water resistant) and capable of producing an excellent sound. That's a very tall order but the new Boom from Ultimate Ears – now a subsidiary of Logitech – comes close to ticking every box. The Boom is the size of one and a half coke cans stacked one on top of the other, so it's certainly compact enough to go anywhere.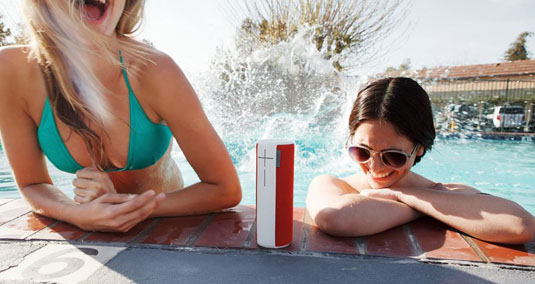 The drinks can circumference isn't accidental either, as it means the Boom can be placed in the cup holder of a car, the bottle holder of a bike or in the side pocket of a backpack. For a portable speaker, the sound quality is superb, battery life good and you can hang it from the cross member of your tent. It even has an NFC chip for easy pairing and works as a speaker phone. It's only failing is it's not cheap, but given its versatility, I'd say it's worth it. ®