Original URL: https://www.theregister.co.uk/2014/06/19/amazon_fire_phone/
Amazon's not-actually-3D Fire: Bezos' cash register in YOUR pocket
Ringtone? Ch-ching-tone, more like
Posted in Personal Tech, 19th June 2014 01:07 GMT
If you like smartphones and you like shopping, then you just might like the Fire Phone, the first handset to be released by Jeff Bezos' etail juggernaut Amazon - and as you'd expect, it's all about shopping.
The announcement that Bezos' e-tail titan plans to release an own-branded mobe came as no surprise, but what was actually shown at the launch event in Seattle on Wednesday didn't quite match what was hailed in early rumors.
More than a year ago, reports surfaced claiming Amazon was working on a phone with a screen that would be able to display hovering, stereoscopic 3D images without requiring the user to wear special glasses.
What we got instead was a tech that Amazon is calling Dynamic Perspective. While it does rely on four tiny cameras and four infrared LEDs to track the position of the user's head – as was previously thought – rather than making images pop out of the screen, it allows you to use head motion and hand gestures to pan, tilt and swivel onscreen content.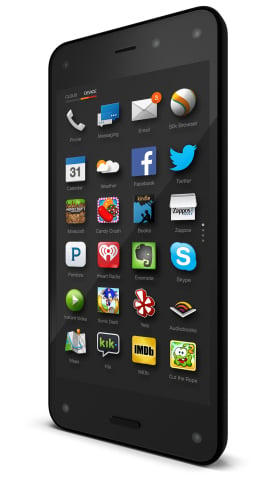 It won't project Princess Leia for you, but it can pivot
For example, in a first-person videogame you could move your head and tilt your hand slightly to peek around corners, or you can tilt the Maps app to reveal Yelp ratings – things that wouldn't be possible with most current phones. Another feature allows you to scroll continuously through content using only wrist motions.
Shop 'til you drop (the phone)
But the Fire Phone's real raison d'être is obviously not to wow customers with a novel display, but to pull them into the wide world of Amazon shopping.
The device comes preloaded with the usual variety of Amazon-centric media apps you'd expect to find on a Kindle tablet, including Amazon Instant Video, Amazon Music, the Kindle e-book reader, the Audible audiobook player, and the Amazon Appstore. Competitors' offerings – most notably the Google Play group of apps – are not included.
Another new technology aimed at shopaholics is something that Amazon is calling Firefly. The tech works with the device's camera and microphones to recognize all sorts of media around you. It can automatically recognized text scanned from posters, pages, or business cards, for example, or recognize what music or TV shows are currently playing. And, naturally, Firefly can recognize over 70 million products, just by snapping pictures of them.
Google has built similar capabilities into its Google Goggles and Google Now apps, but again, those don't allow you to search Amazon for the items you snap and buy them with the push of a button, so Bezos & Co chose to go it alone.
In fact, the Fire Phone isn't even technically an Android phone. It's running something called Fire OS 3.5.0, a new version of the Android fork that Amazon developed for its Kindle line that the company says has been customized for the new hardware.
And if all of those lovely content-buying apps aren't enough, for a limited time, Amazon will even throw in a free year of its Prime service, which includes unlimited streaming from Prime Instant Video and Prime Music, access to the Kindle Owners' Lending Library, and – yes – free two-day shipping on all that stuff you're going to be buying from Amazon with your new Fire Phone.
And if you can't figure out how to get all of this high-tech wizardry working on your own, Amazon is including access to its Mayday instant live video support service, which it debuted with its Kindle Fire HDX fondleslabs in 2013.
A respectable bit of kit
The phone's hardware itself seems quite decent. It's inky black but otherwise mostly looks like an iPhone (careful with those rounded corners, Jeff)! The main difference from your typical smartphones is that the Fire Phone features dedicated buttons for the camera and Firefly.
Under the hood, it's based on a quad-core Qualcomm Snapdragon 800 CPU clocked at 2.2GHz, with 2GB of RAM and Adreno 330 graphics – so it should be quite zippy, but it's interesting that Amazon didn't wait until the more powerful Snapdragon 805 arrives later this year for its first device.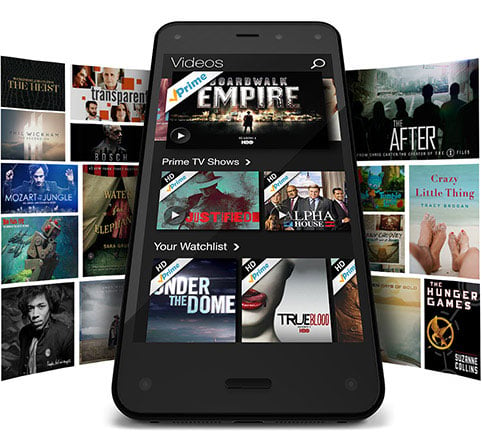 Amazon's new mobe lets you plug into Prime with a free year of the service
Its 4.7-inch screen isn't the largest around, either, and it only runs at 1280-by-720 resolution. But Bezos said the smaller size was designed to make the device easier to operate with one hand, and the lower resolution should give games and other graphics-intensive apps more oomph.
The smaller screen might also contribute to what sounds like impressive battery life. Amazon says the Fire Phone can deliver up to 285 hours of standby time, up to 22 hours of talk time, up to 65 hours of audio playback, and up to 11 hours of video playback – enough for a full flight from San Francisco to London.
Amazon is also touting the Fire Phone's Dolby Digital Plus audio and its 13-megapixel, f/2.0 rear-facing camera, which supports optical image stabilization, High Dynamic Range (HDR) photography, and 1080p video at 30fps. The company is even throwing in unlimited storage for photos you take with the device on its Cloud Drive service (although videos will still be subject to the usual storage limits).
The device comes with the usual brace of radios, including 802.11ac Wi-Fi, Bluetooth 3.0, NFC, GPS, AGPS, GLONASS, and support for five bands of UTMS/HSPA+, quad-band GSM/EDGE, and nine bands of LTE, including carrier aggregation.
What it won't support, however – at least for now – are any carriers other than AT&T. As predicted, Amazon has chosen to go exclusive with the Number Two US mobile provider, which in turn has promised to support the Mayday help service over its network, in addition to its earlier Wi-Fi mode.
The Fire Phone is expected to begin shipping on July 25, but Amazon is taking preorders now, with prices ranging from $199 for a 32GB model with a two-year contract, all the way to $749 for a 64GB model with no service plan. So, cheap it ain't; but Amazon has still managed to cram quite a lot of value into a very small package – provided, that is, you still want to do business with the firm. ®