Original URL: https://www.theregister.co.uk/2014/06/06/the_strippers_unicorn_computers_and_martian_watches_of_computex/
The Strippers, Unicorn Computers and Martian Watches of Computex
Taiwan's tech tat bazaar viewed through the lens of ten prominent products
Posted in The Channel, 6th June 2014 07:32 GMT
Computex I've been to plenty of technology shows around the world but never one as diverse as Computex, where you'll find single-board industrial computers side-by-side with strippers.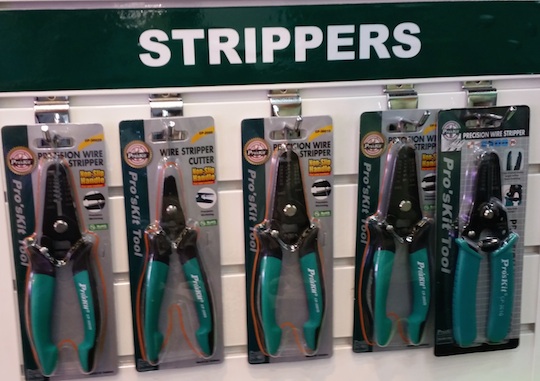 What a tool
All stripper jokes aside, to understand Computex you need to know that there are lots of scantily-clad young women all over the show. Just about every stand and suite – more on those later – has one or more "showgirls" in a custom-made micro-dress adorned with their employer's logo. Many have temporary tattoos of the same logo on the parts of their body most likely to attract roving eyes.
Even top tier US vendors hire showgirls because apparently this goes down very well with buyers from Taiwan and China. Visitors from the west may wonder how they found themselves back in the 1980s, but as they do so they will do well to remember that Computex is playing to a regional and global audience.
The show also offers some of the most elaborate trade show stands you'll see. Gaming company Raidmax went so far as to create this post-apocalyptic cave.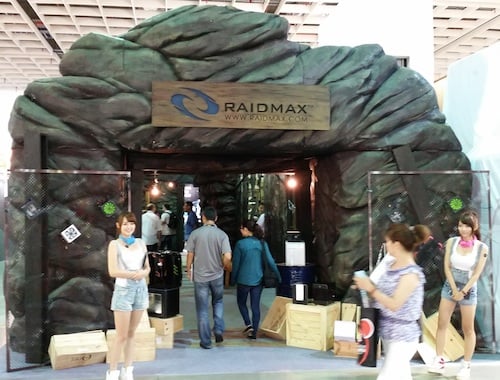 Raidmax's showgirls are much more modest than most
You'll also see the chap below, and others like him, roaming the halls, just to remind you what the show is really all about.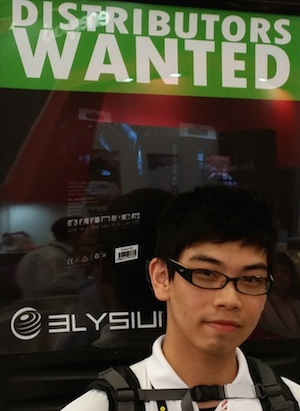 Sandwich board-bearers get to keep their pants on
This year, the event was ostensibly focussed on the internet of things and wearables. But as I walked the floor of the four halls I picked up on a few other themes. So now that we've set the scene, here's a digested here's the ten product categories I think best tell the tale of Computex 2014.
1. Landfill Android fondleslabs
It's impossible to walk through Computex without seeing Android tablets in every fourth or fifth booth.
So many vendors offer seven or eight inch models, with so little visible differentiation, that it is a little depressing to contemplate the waste of human ingenuity that has gone into their creation.
Some vendors are at least doing a good job of cloning, such as Taiwan's Inhon which offers the impressive Famorr tablet.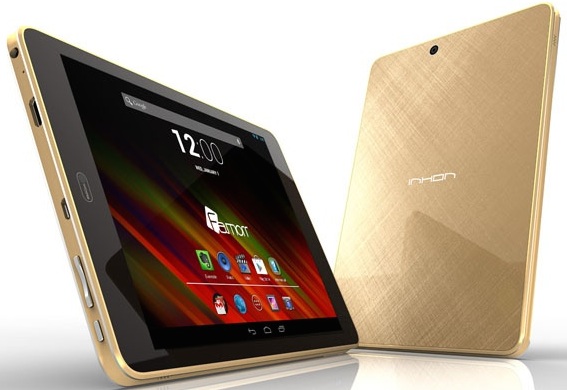 Unlike the acres of bad Android tablets at Computex, Inhon's Famorr bears evidence of an actual designer making more than ten minutes' effort
The other thing to note about Android tabs at Computex was that even the no-name Chinese vendors were starting to use Intel chippery. Acer announced it is going Atom during the show.
Intel spent Computex pointing out that when its preferred benchmarks are used it now trounces Qualcomm for speed and compares very favourably for power consumption. Qualcomm was hardly sighted. I came away feeling that Intel is really starting to get significant traction in the fondleslab market.
2. Smart watches
Another product it was hard to avoid was smartwatches, most of which looked like clunky, purpose-less trash capable of making Android run on a tiny screen but hardly offering a compelling phone accessory, never mind challenging more conventional wristwear.
The one exception I found was a company called Martian Watches, which has decided a screen just one row high and perhaps 20 characters wide in an otherwise conventional watch is the way to go.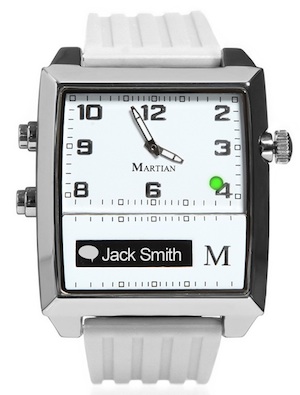 The Martian Smartwartch
Once you see it, the idea isn't stupid: if you get a TXT or email the screen lets you know about it. But the company's watches don't expect you to interact with a wrist-mounted device, an approach I find more sensible that interacting with a tiny screen.
Unusually for Computex, Martian Watches has created a brand that can address consumers. It might just be one to … ahem … watch.
The myriad other smartwatch makers look like clumsy bandwagon-hoppers who will soon need their own term of disposable derision: one off the wrist, perhaps?
3. Internet of things
Much was made about the Internet of Things being big at this year's Computex. In reality, there were none of the ubiquitous sensors we've been promised, only a smattering of weatherproof routers and a few folks offering the guts of telematics for cars. Gadgets like Bluetooth bathroom scales and WiFi lightbulbs were lumped into the category and easy to find, but also easy to dismiss because none appeared original in concept or execution.
One category of product often shoe-horned into the IoT was small industrial computers and/or comms kit.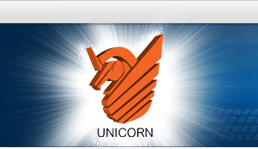 NOW do you believe in Unicorns?
One provider of such kit that caught my eye was Unicorn Computer Corp of Taiwan. For the name, sadly: the company didn't otherwise stand out from the crowd.
4. A billion boring batteries
Let's talk about USB batteries, aka power banks, to illustrate that Computex is not all about leading edge kit.
Such devices have been around for a while but the kit-makers of Taiwan seem collectively to have decided that anxiety about mobile device battery life has reached levels at which many of us are prepared to shell out a few bucks/quid/triganic pu to acquire one. Computex is therefore replete with backup batteries in every shape and size.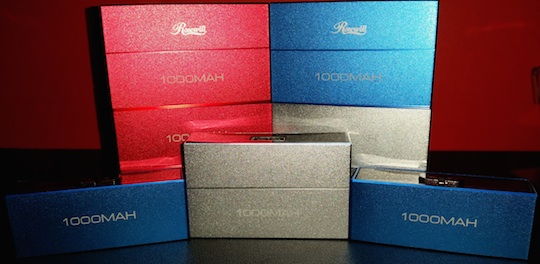 Rosewill's modular power bank is a rare innovative item at Computex
There's not much innovation in the stuff that's on sale now, but we did find the device above from an outfit called Rosewill. It features three batteries that collectively offer 3000MaH of juice, but if you don't want to schlep the whole thing around all day you can break it down into three 1000MaH bricks.
I spotted the Rosewill in a suite at the Grand Hyatt adjacent to the main Computex show floor. Lots of companies don't bother with a booth and instead hire a suite in which they set up a showroom/meeting room and lay on food for more serious sales discussions.
There's nothing seedy about the suites (or at least the ones I visited) and they make a nice break from the seething masses on the show floor. The food and drink is welcome, too.
5. Cute locals
It was rare to see actual new stuff at Computex, but on I spotted was the Viewphone, a goggle-type apparatus into which one slides one's smartphone. A magnifying lens over each eye bends light so your smartmobe's screen occupies your entire field of vision. The effect wasn't perfect, but was cute.
The kids who are selling it were plucky and enthusiastic and told us they come from same Taipei suburb that houses ASUS and also a rather fun night market where one can pay $US4 to fish for live prawns swimming in a plastic tub. If you catch one, the shopkeeper grills it on the spot, coaxing a smoking piece of charcoal to life with a hair drier.
But we digress. Let's talk about gaming.
6. Gaming, gaming, gaming and more gaming
A remarkable amount of kit at Computex is aimed at gamers, begging the question just how many people really care about this stuff. Yes, we know games generate more cash than Hollywood. But is there really a need for hundreds of new gamer-directed PC cases each year?
This year the must-have gamer item seems to be cyberpunk-styled mice, like the one below.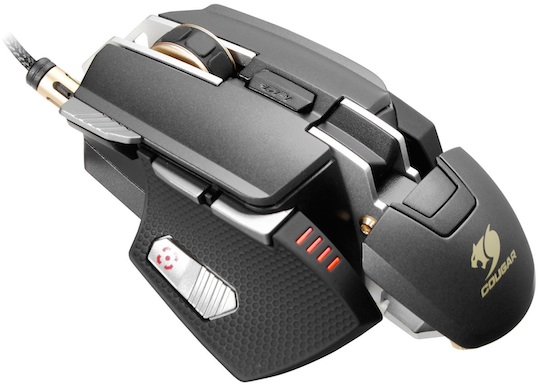 Cougar's gaming mouse scooped a best of Computex design award
The sheer variety of gamer-directed kit gets a bit depressing at Computex: you feel there's no way every exhibitor can possibly turn a profit. That many of the gaming mice are just one model on a stand housing another dozen or more generic mouse designs, and a handful of me-too USB stick or power bank designs, just adds to a feeling that an awful lot of stuff at the show is destined for landfill, perhaps after detouring through Taiwan's bankruptcy courts.
7. Doomed wireless chargers
One of the many announcements at the show was that several top OEMs – Fujitsu, Foxconn, Lenovo, Logitech, and Panasonic – have signed up for the Alliance For Wireless Power, aka the A4WP aka "Rezence". The A4WP also used the show to reveal that it plans to allow multi-device wireless charging up to 50 watts.
That didn't stop backers of the rival Qi wireless power standard showing off all manner of kit, like the lamp below from Idealltech. The lamp's base is a charging pad and the idea is you'll pop it at your bedside or somewhere else it makes sense to toss your phone.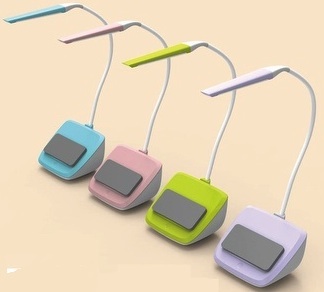 Pretty, but probably doomed: Idealltech's LED lamp with Qi charging pad
8. Storvers
There's not a lot of enterprise products at Computex. Taiwan's storage vendors – the likes of Synology and QNAP – are present with their vanilla SANs and there are a few nameless JBOD vendors.
A few of those companies and server OEMs had storage servers on the floor. Asking these folks if they could run something like VMware's vSAN drew some blank gazes, but they're not running up these boxes for fun. It seems something's afoot.
9. Selfiecessories
Quite a few products I spotted at Computex promise to help you take better selfies.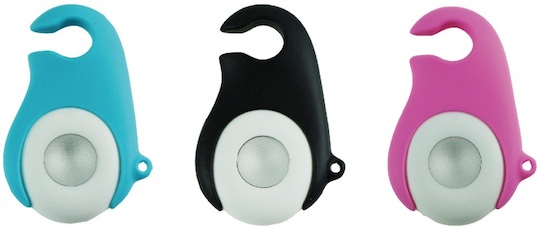 Apoptop's iSelfie
Apotop's iSelfie, above, is quite clever. The device you see above is actually two things. The round white and grey part is a switch that connects over Bluetooth to an iPhone. The black, pink or blue bit houses the switch but is also a stand that can sit your iPhone at an angle that makes it possible to view the screen while you take a selfie.
Mount up your phone, palm the switch, smile nicely, click and … there you are, on screen!
Apoptop folks promised me Android compatibility for Christmas.
The show was also replete with many WiFi camera designs. Some were marketed as baby cameras, in some cases allowing you to keep an eye on your offspring over Skype. Others like Beseye have made big investments in design to produce stylish items that will make video surveillance fit in with any decor.
10. An infinite number of phone and fondleslab cases
If you go more than two minutes at Computex without seeing a case for a mobile device, you're doing it wrong.
Again, it is a little depressing to see dull case after dull case. The few standouts were either the result of unusually high production values - think Italian leather - or unlikely homages like the flock of iPad cases with keyboards that are seemingly based on Microsoft's Surface.
Perhaps the best case to feature is the one below with an eInk screen.
Of all the two-faced cases ...
I chose this case because it is a little bit innovative and also because the E-Ink folks on the stand told me they've just launched full-colour E-Ink for digital signage. There's also a new range of two-colour E-Ink tags to place on supermarket shelves that suck in new data over Zigbee so retailers can update them at will.
That a launch like that was more or less buried on one small stand in an obscure part of Computex says a lot about the show. There's some very interesting stuff there once you get beyond the Unicorns and the Showgirls.
Finding the valuable nuggets among the dirt is, however, a task that requires a lot of effort. ®