Original URL: https://www.theregister.co.uk/2014/06/05/tizen_developer_conference_2014/
Samsung's 'OS of Everything' Tizen still has little to offer
Much talk yet few devices at this year's Tizen dev conference
Posted in Software, 5th June 2014 07:32 GMT
Analysis The first smartphone running the Linux-based Tizen OS is here, even if it will likely be a long time before most of us can get our hands on it. But forget about phones – Tizen is also about cars, TVs, home automation, wearables, and more.
At least, that was the message put forth at the third annual Tizen Developer Conference in San Francisco this week, where the Samsung-backed project has been rechristened "the OS of Everything."
The plan now is to hitch Tizen – which has struggled to gain a foothold, or even a foot in the door, of the smartphone market – to that latest buzzword du jour, the Internet of Things.
"So far, we've created three profiles for mobile, wearables, and cars," said Intel's Imad Sousou, co-chair of the Tizen Steering Group, during Tuesday morning's keynote. "Over the next few months we are working on creating another three profiles for TVs, cameras, and home appliances."
Mark Bryan, executive director of product marketing for home automation vendor iControl, was particularly effusive during his TDC talk. "[Tizen] is the platform that is going to take the Internet of Things from where it is today, which is just in the early adopters, and change the way that the mass market – that the world, humanity – behaves," he said. "It's going to change the way that they live their lives."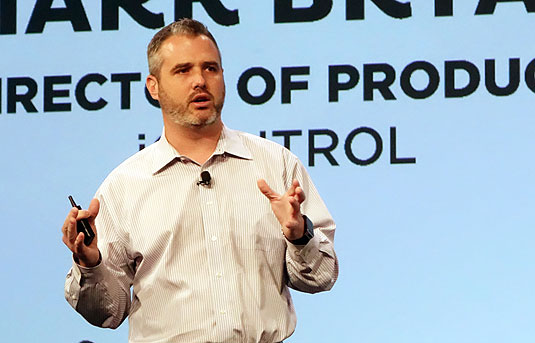 iControl exec Mark Bryan thinks Tizen is going to change your life
Tizen's thingification will be supported by the forthcoming version 3.0, which will introduce variants of the OS for new classes of devices while uniting its various flavors under a single, common code base that will be shared by all.
But just who will make these purportedly revolutionary devices remains to be seen.
So far, Samsung, which has invested heavily in Tizen as an alternative to Google's Android, is the only vendor to produce consumer electronics based on the OS, despite it being hailed as an open platform that's developed under the auspices of the Linux Foundation.
The Korean firm's first Tizen-based products were a line of "smart cameras," which even it admits aren't the best showcase for the platform's potential.
"Although [the cameras] are Tizen products, they don't get the full support from the SDK," Samsung executive VP Jong-Deok "JD" Choi said on Tuesday. "The honor to be the first fully Tizen-compliant devices, with full support from the Tizen ecosystem and SDK, goes to these two devices: Samsung Gear 2 and Samsung Gear 2 Neo."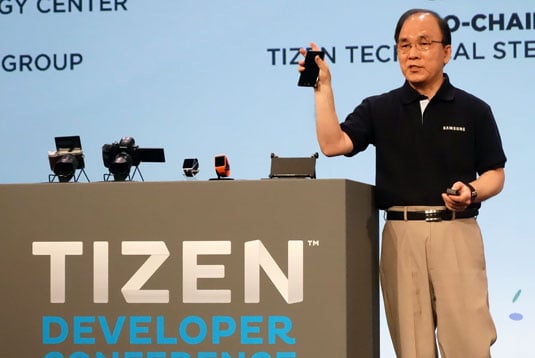 THEY'RE REAL! Samsung's Jong-Deok Choi shows off the few Tizen devices on the market now
Those would be the chaebol's latest smartwatches, for which Choi said there are already "many" applications available in the Samsung Gear app store.
Samsung also showed a 64" Tizen-based curved-screen smart TV at the show, albeit a prototype. "Unfortunately, this TV is not on the market yet," Choi said. "But read my lips, they will be on the market very soon."
Intel, too, is keen on Tizen, particularly in the area of in-vehicle "infotainment" (IVI) systems. This year's conference saw not just one but two demo cars on display featuring Tizen-based onboard electronics. Chipzilla says lots of auto-makers are super-keen on its kit and therefore on Tizen, too.
And then there's that smartphone. Tizen enthusiasts have waited years for an actual handset running the OS, but until now, Samsung has offered nothing but developer reference kit. When it finally did launch the Samsung Z, it oddly chose to do it on Monday, the day before the Tizen Developer Conference kicked off.
Devices galore ... someday
Conference attendees didn't get the Z as a freebie, either – although they did get a Gear 2 smartwatch and an Intel NUC (Next Unit of Computing) to develop Tizen apps on – but there were plenty of units on display for them to play with. Your Reg hack poked around with one and found it to be a responsive smartphone with a competent, if unfamiliar, UI.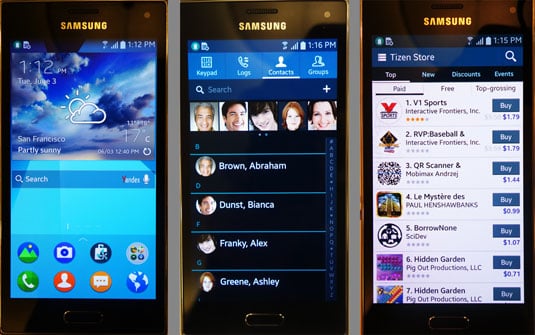 Here's a first look at the UI of the Samsung Z, the first commercial Tizen phone (click to enlarge)
Yet that very unfamiliarity is likely to remain Tizen's greatest challenge. For all its strengths as a smartphone platform, it isn't Android. Much like BlackBerry and Windows Phone, it's going to have a hard time convincing customers that it will catch up with Google's platform – or, for that matter, iOS – anytime soon. And Tizen faces competition in the other markets to which it aspires, too.
Nikon makes cameras based on Android, but other vendors seem content with their own, proprietary software, and these days most folks take snaps with their phones, anyway.
Ford Motor Company has turned to Microsoft for its in-car systems in the past, but BlackBerry-owned QNX – a real-time OS that was purpose-built for industrial and embedded systems – might be a better choice, and it's already used by several automakers.
Samsung's Tizen-powered smartwatches are billed as "companion devices" that aren't good for much unless they're paired with a Samsung smartphone (and only recent ones, at that). Meanwhile, LG, Motorola, and others are reportedly preparing to ship smartwatches based on Android Wear, a shared platform that's compatible with any Android mobe.
Today's so-called smart TVs could use more smarts, but there's not much to suggest that the industry will rally around Tizen. LG, which trails only Samsung in this market, reportedly bought HP's webOS for use in its boob tubes.
Soon?
And while Tizen's new Open Smart Home Project sounds good – Choi billed it as "smart home services, monitoring and controlling the functions and devices and features within your home and on your body, all together, connected, while you are at home or while you are remotely away halfway across the globe to the other side" – Apple's prestige in the consumer electronics market might make its recently-announced HealthKit and HomeKit initiatives more attractive to device makers.
Apple's plans also sound a little more, shall we say, concrete. Samsung so misjudged its ability to deliver Tizen-powered smartphones that its previously announced carrier partners all bailed on it after repeated delays. The Korean firm now plans to launch the Samsung Z exclusively in Russia later this year, and it's still trying to find other countries willing to take the thing.
Similarly, while there was much talk about Tizen 3.0 at this year's conference, it's clearly still a work in progress. With the current version of the OS, there's still considerable fragmentation between the versions used by different industries; Tizen IVI diverges from Tizen Mobile in substantial ways, for example. Unifying the branches is a laudable goal, but a lofty one.
It's true that Tizen is here, now. We have cameras, watches, and now a phone to prove it. But at the rate that it's going, where it will be tomorrow remains an open question. ®